Becton staff and students welcome back math teacher Mrs. Diakos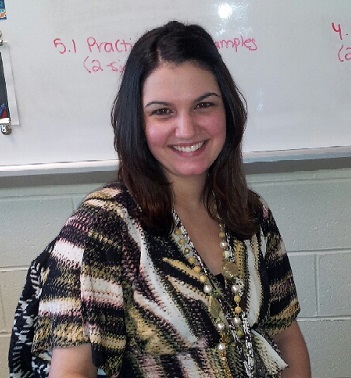 Mrs. Diakos, previously known as Ms. Filippidis, has returned to Becton on November 19 after taking a maternity leave.
"I am happy to be back. I really missed the students," said Mrs. Diakos.
She noted that her return is going to be an adjustment though. Unfamiliar with the new changes at school, Mrs. Diakos was quite surprised to see the new staff throughout the building and freshman students in her class. "Most of my classes I teach are freshmen, so it's kind of new for me," said the math teacher.
Overall, Mrs. Diakos is pleased with her schedule. She is currently teaching three Algebra I classes and two Geometry courses. "I am okay with the schedule change. I take changes easily because I learn to balance and manage time well," stated Mrs. Diakos.
During the summer, Mrs. Diakos was busy planning a baby shower for her newborn daughter, Maria. She also took a four hour trip to Maryland with her husband and their newborn. "The trip was a fun experience and Maria was surprisingly very well behaved," said the math teacher. "I enjoyed the summer, but most of the time I was busy taking care of the baby," she continued.
Sophomore student Ronnie Marallano is thrilled to have Mrs. Diakos back. "Mrs. Diakos has always been my favorite math teacher because she teaches well," revealed Ronnie.