Checkmate: The Winner and Grand Master of Becton, Tim Pineda
The Becton Chess Club has announced their winner, Tim Pineda, as the winner of the school wide chess tournament and becoming the first Becton Regional High School Grand Master. The brand new Chess Club is run by Mr. Malyack. The team competes in various tournaments throughout the year. Pineda, an active and loyal member, is being rewarded for winning and becoming the school's first ever, Grand Master! To define Grand Master, it is the highest title awarded in chess and a player must reach certain goals in order to achieve this very prestigious title. Mr. Maylack went into detail regarding how a chess tournament is run and handled, "We had multiple chess boards set up in a room with the top 16 chess players. In the first round we had 8 matches at once and half of the group was eliminated. If a stalemate occurred, a 3 minute speed chess match was played between the participants to determine a winner. We went forward in this format until we only had two players left, Lucas Chen and Tim Pineda. Tim won the last match of single elimination to become the Grand Master of the tournament." 
Being the first Grand Master in Becton Regional High School, Pineda, when asked how he felt about the award and title, answered humbly, "It feels great being able to win the tournament. I had been practicing a lot online and during our lunch meetings to prepare for this. During the tournament, I was feeling nervous as the team has many great competitors. Luckily, I was able to keep my composure and when the final game ended, a wave of relief and satisfaction came over me."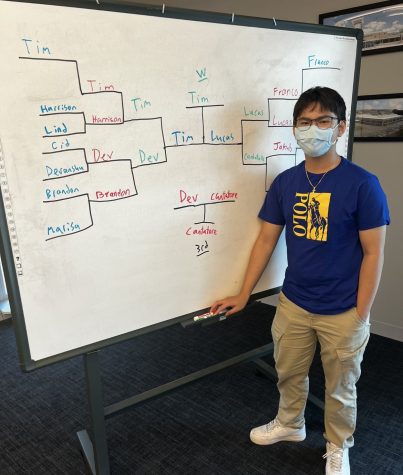 Pineda is only a sophomore at Becton and is already lifting the game of Chess for Becton! Tim states where he sees the team growing and how he plans on assisting the team for years to come, "l am hoping next year to try and teach others in the club about different tactics and strategies I have learned to make us all even better at the game. I started playing chess in Maywood and I would love to try and set up a tournament between Maywood vs Becton. Overall, I just want to expose the game to anyone who is willing to try it. Chess may seem intimidating or difficult due to the many pieces and different rules, but once you get the hang of it, it is a very fun game that all ages can enjoy." The Chess team has some of the most advancing members in our district, and with leaders like Tim Pineda, they will continue to amaze the Becton Family!
About the Contributor
Madison Knueppel, Staff Writer
Madison Knueppel is a senior at Becton Regional High School and hopes to be attending either William Paterson University or Montclair State University...