Becton Regional High School Hosts Its Annual Art Show!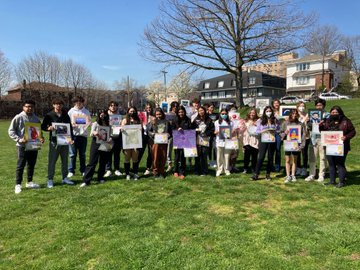 Becton Regional High School's annual Art Show recently took place on the weekend of April 8th-10th! Accompanying the school performance of The Great Gatsby, the art show was open in the media center for all visitors and students to view at the beginning, during intermission, and after the play. Works from throughout the school year of students from a variety of art classes were showcased for all to see. The observers then had the opportunity to vote for their favorites and there were many winners. The teachers now explain the process behind the art show and winners share their feelings about their nomination!
Ms. Dawn Savincki of the Art Department at Becton Regional High School returned to work on the art show for the 13th time this year. Along with Ms. Rachel Kehoe, Ms. Amanda Colangelo, and student volunteers, Savincki transformed the Media Center into a gallery of works from all art students throughout the school year. She shares her favorite aspect of the event, explaining "It was nice seeing students' eyes light up when they saw their work and the works of their classmates in the show." Watching the progression of her student's work throughout the school year, Savincki feels that her "students deserve to show off their work after working hard throughout the year" and that the show allows the students to "view their work in a more professional space and atmosphere." In future art shows, Savincki hopes to invite a student musician to play an instrument at the beginning of the opening night!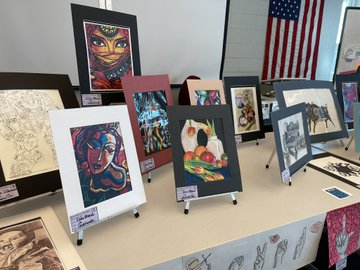 Kehoe, another teacher in the Art Department of Becton, also organized this year's art show, returning for her second year. In the previous year, the Art Department was limited in its options to host the art show and arranged a virtual video gallery in place of the gallery. Given the opportunity to hold the art show as normal, Kehoe was very grateful and shared that her "favorite part about preparing for the show was seeing the digital art come off of the screen into a framed print." She also enjoyed being able to see her students view their artwork and feel proud of what they created. Along with being able to see the artwork off of a screen and seeing her student's reactions, Kehoe believes that "art is not complete until it is shared with others" and therefore believes that the art show should take place here at Becton! In future art shows to come, Kehoe would like to make the artwork even larger and guarantees that these shows will be "just as great, if not better" than this year!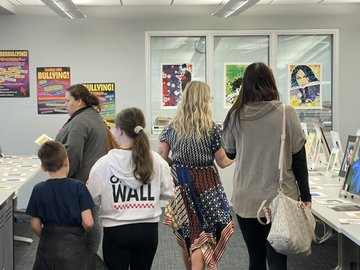 There were several pieces showcased at this year's Becton art show! Each student in an art class had the opportunity to choose one to three pieces of their artwork to showcase in the gallery. If they were uncertain of which pieces to choose, teachers guided them through the process. Students and the viewers of The Great Gatsby play were able to come and visit the Media Center before, during, and after the play and view all the artwork. They then had the chance to vote for their favorite piece through a Google Form, which is what was used to determine the winners of the art show. There were a total of 18 winners from six different categories, which were Graphic Design, Digital Photography, Digital Art, Cultural Art, Art 1, and Advanced Art. Along with the top three from each category, there was also a fourth-place winner of the teacher's choice!
Kyla Groh, a Becton Regional High School junior, came in first place in the category of Advanced Art. Her winning piece was a technical still life of screws and was made with the medium of shading pencils. Groh feels that there were "so many wonderful pieces" and was therefore surprised and extremely grateful to win first place and explains that she will "use this accomplishment to push me to challenge myself through my artwork!"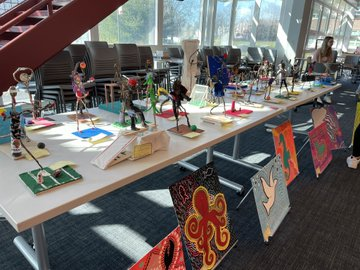 A Becton Regional High School freshman, Matias Ochoa, also came in a tie for second place with Cole Thomas in the Digital Art category. His winning piece would be entitled "A Depiction of Mr. Malyack", as the motive or inspiration behind it was to create a drawing that would capture who Mr. Joseph Malyack of the Math Department is. Ochoa utilized Photoshop to edit Malyack with items related to him, such as a bowling ball, chess piece, and geometric shapes. He shares that he truly appreciates everyone who decided to vote for his piece, and explains, "I will use this accomplishment to further better my artwork by utilizing it as a boost in self-esteem and confidence in general. I will continue to make pieces the way I would like to, make improvements, and have fun while doing so!"
Now, we wait in anticipation for next year's Becton Art Show!
About the Contributor
Neziha Ulker, Staff Writer
Neziha Ulker is a sophomore at Henry P. Becton Regional High School. Intriguing enough, the word "Ulker'' translates to "Pleiades constellation"...