Covid-19 Vaccines Available to Teens
As of Monday, April 19, 2021, all individuals over the age of 16 are able to receive a COVID-19 vaccine. Most people are reluctant to get a vaccine because of the long lines at the vaccination sites and its lengthy process. However, it is still important to get vaccinated because this is the only approved treatment for COVID-19 as the NJ Department of Health expresses that "While no vaccine is 100% effective, all COVID-19 vaccines currently available to the United States have been shown to be highly effective at preventing COVID-19." 
"Many teenagers are going off to college, sports camps. Etc.  Living in dorms makes it hard to social distance, so having the vaccine would be beneficial" expresses English teacher Mrs. Katie Scalera. Once receiving the vaccination, most people reported a pain in their shoulder that persists for a day or two after vaccination; rubbing ice on the vaccinated area is a possible remedy to the pain. However, Mrs. Scalera also mentioned, "People must take the vaccine and side effects seriously and monitor their health. If they have any questions or concerns, they should call their doctor immediately." The distribution of the Johnson and Johnson vaccine was put on hold because of the blood clots it caused. Additionally, some individuals may experience an allergic reaction and a healthcare professional should be informed of this immediately. This leaves Pfizer and Moderna vaccines. Pfizer is approved for individuals over the age of 16. It has a 75-95% chance of preventing severe illness from COVID-19 seven days after the second dose. Moderna is approved for individuals over the age of 18. It has a 94-100% chance of preventing severe illness from COVID-19 fourteen days after the second dose. These statistics show that after vaccination, the chance of getting really sick from the virus is low. In addition, Tenzin Yiga, a sophomore that received the Pfizer vaccine expressed, "As long as you are able to and are medically equipped to, I don't see why you should refuse to get the vaccine. If you can help end the spread of the virus,
To begin with, the COVID-19 vaccine is free- individuals without insurance do not need to worry about out-of-pocket costs. Young people were most likely the ones most affected by the pandemic because they are no longer able to socialize in person with friends and in some instances, attend school in person. Since teenagers are now eligible for vaccination, they should definitely get it because after an individual gets vaccinated, he or she can visit other fully vaccinated people without masks and distancing. They can also not have to quarantine after exposure if the person did not have any symptoms. Most people also dislike the wearing of masks; the sooner most of the population is vaccinated, the quicker masks wearing will cease to exist and people can go back to wearing their lipstick and lipgloss in public. 
Furthermore, the vaccine is perfectly safe to use. The vaccines have been reviewed multiple times by scientists, doctors, and healthcare professionals to be sure that no harm is to be inflicted. There are many myths around that express concern for reproductive troubles that come with vaccinations. However, the Centers for Disease Control and Prevention illustrates, "There is currently no evidence that COVID-19 vaccination causes any problems with pregnancy, including the development of the placenta. In addition, there is no evidence that fertility problems are a side effect of any vaccine, including COVID-19 vaccines." Additionally, the vaccine does not alter a person's DNA. This means that teenagers do not need to worry about becoming sterile after vaccination. Nevertheless, Mrs. Scalera also expresses, "If anyone does not feel comfortable receiving a vaccine, then they should not get it." Eventually, everyone is going to have to get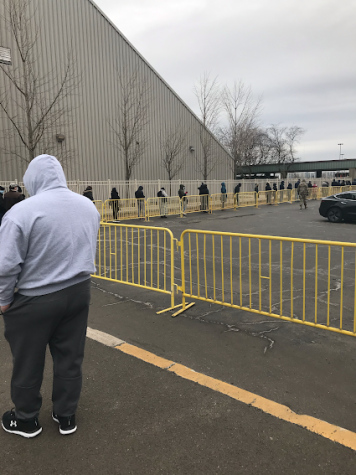 vaccinated, so it is still better to get vaccinated sooner than later. 
Lastly, another reason that teenagers should get vaccinated is that it can protect the people around them. Many teenagers have parents or other family members that could get seriously sick from COVID-19. Individuals that are not eligible for the vaccine should learn more about COVID-19 and help others in their community get vaccinated. Once vaccinated, people should not cease the precautionary measures such as washing their hands, wearing masks, and social distancing. Tenzin Yiga reinforces this idea when she explains "people should continue to wear masks when they go out in public areas and in crowds, whether or not they are vaccinated. This will also assist in ending the spread of the virus as it helps to eliminate any factor of transmission." 
In conclusion, vaccines are the safest medical treatment used to treat diseases. Now that teenagers are eligible and have many incentives to get vaccinated, they should do so immediately. The vaccine is going to help bring an end to the pandemic sooner, but everyone needs to do their part and get vaccinated; they also need to continue to take care of themselves by following the precautionary measures to reduce the spread of the virus.