2021 Lunar New Year but with a Twist
In February, people across the globe celebrate the Lunar New Year, and for many, that means ridding your house of negative energy, cooking mounds of food, receiving gifts, and starting the new year with family and friends. However, this year was very different as preparations began at home. This festival is generally celebrated in many East Asian countries. Lunar New Year is based on the Lunisolar calendar, which means that the new year celebrations begin with the first new moon and end 15 days later on the first full moon. Lunar New Year is celebrated a little differently in each country, Chinese Chunjie, Korean Seollal, Tibetan Losar, Vietnamese Tết, and more. However, the purpose of this celebration remains consistent, the celebration of the new year.
Since it is based on the cycle of the moon, the dates of this holiday can vary, but according to western calendars, it typically takes place between the end of January and the end of February. The 2021 Lunar New Year was observed on Friday, February 12th, and ended on the 26th. The first full moon of the year takes place on the 15th day, so new year celebrations usually last until then.
Every Asian country that celebrates the Lunar New Year has specific traditions that they follow. During Chinese New Year, you give red envelopes to your family and your friends and receive them, in return. "The red color symbolizes good luck and prosperity in Chinese culture," remarks Becton sophomore Lucas Chen. He explains how this holiday is extremely important to him, "It's a way for me to connect with my Chinese heritage as a multicultural Asian-American."
Chinese New Year usually starts with a family feast, this is called a reunion dinner and is full of traditional foods. Lucky foods to eat include fish, dumplings, spring rolls, and Niangao (rice cake). Chen adds that one of his favorite parts of this holiday is getting to enjoy the amazing traditional foods. However, his favorite snacks are moon cakes, "They are about the size of a cookie and are pastries made of a thick filling made of red bean paste or lotus seed paste." The final day of Chinese New Year is celebrated with the annual Lantern Festival. During the festival, many people enjoy the lanterns, guessing riddles, consuming tangyuan, and watching traditional lion dances.
During Korean New Year, Koreans dress in hanboks and play a traditional board game called Yut. An important tradition in Korea is
Sebae. Yuna Lim, a Becton Junior, explains that children and younger family members bow to elder family members. She mentions, "The bow signifies respect, luck, and good health to the recipient. However, a lot of people misunderstand that this tradition is solely to receive money. When we bow, we not only receive money but also blessings and kind words from our elders in return. The blessings show wisdom and positive energy for us to start the new year." A traditional Korean food that is eaten is Tteokguk, which is a soup made of thinly sliced rice cakes. Korean New Year is very similar to a birthday for Koreans, and having Tteokguk is part of a normal celebration. In Korea, you are considered one year older after eating Tteokguk. Korean New Year usually lasts for 3 days and dates back centuries. Finally, all across Korea at midnight traditional bell ringing ceremonies take place to welcome the start of the new year.
During Tibetan New Year, also known as Losar, "Houses are thoroughly cleaned, new clothes are worn, and special goods are prepared for the Losar altar," sophomore, Tenzin Woser explains. Tibetan New Year's preparations begin on the 29th day of the final month of the Tibetan calendar. This is the day before Tibetan New Year's Eve and is called Guthuk night. Monasteries hold a special celebration in preparation for the new year festivities. On this night, a traditional soup comprising 9 ingredients is eaten. The soup contains dough balls, which all hold different fortunes including coal, salt, wool, chilly, rice, and more. The ingredient that you find hidden in your dough ball is supposed to signify how your year will go. The last day of the year, after Guthuk night, is designated to thoroughly cleaning your house of evils, garbage, and negative energy as well as starting preparations for the altar. On New Year's Day, many families usually wake up early and put on traditional Tibetan dresses called Chupas, eat a rice mix called desi, and drink Tibetan fermented alcohol and butter milk tea. Since the majority of the Tibetan population is Buddhist, Woser adds, "Tibetans visit temples and monasteries, donating money to them, praying, and performing Koras or circles around them." Buddhists believe that doing Koras around sacred sites adds good merits on your journey towards enlightenment, and acts as a shield from evils and misfortune.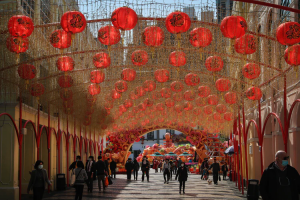 Vietnamese New Year, called Tet, is an occasion for pilgrims and family reunions. Vietnamese visit their family and temples and they consider this holiday to be the first day of spring. It is believed that the very first visitor a family receives, determines their fortune for the entire year. This is one of the most important rituals because families invite a person of good character and morality into their house to bring good luck. Vietnamese people believe that the whole year will be full of good fortune if good things happen to the family on the very first day of the Tet. A very popular traditional food is Mut, which are candied fruits. Mut is a snack that you would eat when welcoming guests that are visiting your home. A big aspect of Tet is decorating your house and families buy a variety of plants such as the Apricot plant, Ochna integerrima, Peach blossom, and Kumquat. Vietnamese believe that these plants bring hope during the new year because they symbolize fertility and fruitfulness.
As the U.S. and other countries work hard to contain the spread of Covid-19, many public festivals and celebrations did not occur. Places such as Hong Kong and San Francisco usually have large-scale festivals and parades but needed to cancel them, this year, due to social-distancing recommendations. However, these beautiful traditions are not going anywhere and will continue to take place in the foreseeable years. Instead, Becton's Asian-American families, and those around the globe, spent time together, continuing their customs, and cherishing their culture, in the safety of their homes.