Lovato takes New Jersey by storm
Singer conquers a sold out show of more than 10,000 screaming fans
"Fierce" is the best word to use when describing the performance Demi Lovato delivered to a sold out Prudential Center on Saturday night. With more than 10,000 screaming fans in attendance for the show, the 22 year old, former Disney Channel star, undoubtedly connected with every single member of the audience.
Her opening acts featured pop-rap duo MKTO, the adorable and talented Christina Perri, and motivational speaker and double-amputee Spencer West.
Dressed in a chrome bustier, studded leather jacket, tight leather pants, and black combat boots, Lovato opened the show to her hit single, "I Really Don't Care." Accompanied by a live band, two back-up singers, and dance ensemble of all males, a freshly dyed, blue haired, Lovato hit the stage running.
Keeping the crowd dancing on their feet, the first half of her concert showed off her more feel good, pop-rock anthems: "The Middle," "Fire Starter," "Remember December," and "Heart Attack." Giving the crowd a chance to catch their breath, Lovato then transitioned into her softer side and wowed the fans with her runs, rifts, and unbelievably high notes, with "My Love is Like A Star," "Don't Forget", "Catch Me," an acoustic rendition of "Get Back," and her Oscar awarding winning song, "Let It Go," featured in the Disney film, Frozen.
Lovato wasted no time in cutting into her set list to connect with her fans. "If you guys are coming to hang out with me," she said, "I'm going to hang out with you." It was in this portion that she shared her favorite TV shows, played a song on the piano, told a short story about her first ever performance on the East Coast, and discussed the importance of conquering one's fears.
Inviting every member in attendance to help support the Women's Empowerment Center in Kenya, Rafiki bracelets were sold at every merchandise booth throughout the arena (each handcrafted by the mommas in the tribes). Lovato also let the audience in on her trip to Kenya, displaying clips of her 21st birthday there, as she sang "Warrior."
The singer only went back to her head-banging tunes for three songs: "Two Pieces," a cover of Michael Jackson's "Thriller," and "Got Dynamite," before she gave the show a very sentimental, New Jersey touch.
She dedicated her song "Nightingale," to Tyler Clementi, the Rutgers University student who committed suicide in 2010 after being cyber-bullied for being gay. Rising into the air on a platform, the white lights beamed down on her, and her voice cracked as she poured out every single emotion in her body. This was by far one of the crowd's favorite moments of the entire concert.
Last but certainly not least, Lovato closed the show with three of her biggest radio hits, "Skyscraper," "Give Your Heart A Break," and an encore performance of "Neon Lights."
About the Writer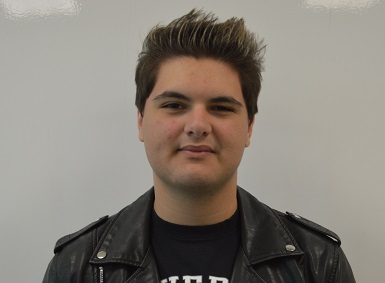 John Rotella, Staff Writer


During John's spare time he enjoys writing and publishing novels to Wattpad, drinking Starbucks, attending concerts, and binge watching television...