June Student of the Month: Angelyn Ariza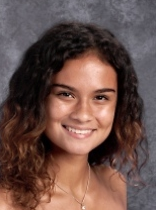 Angelyn Ariza has been rewarded with the title of June Student of the Month due to the outstanding work ethic she has presented throughout her four years here at Becton Regional High school. The senior is ranked 13th in her class with a 94-grade point average.
"It is an honor to be chosen. My hard work and determination have paid off. I also made my parents proud, and I am very content with myself," she said.
While at Becton Regional High School, the Student of the Month has been a member of the National Honor Society and Peer Leadership. She also joined the Multicultural Club and Political Science Club and completed an internship at Valley Hospital throughout my senior year.
Furthermore, the high honor student played for her high school's varsity soccer and varsity track teams.
Outside of school, Angelyn volunteers for the American Red Cross to assist with their blood drives.
A few of Angelyn's favorite classes this year were AP English and Pre-Calculus. "In English, Mrs. Scalera brought joy and life into every book and lesson we reviewed. I loved how small the class was and how connected we were as a whole. As for Pre-Calculus, Mrs. Ferris was an amazing teacher that explained each problem in a way that the entire class could understand. There were a lot of seniors in that class, which made learning math actually fun for me."
The June Student of the Month considers her mother to be her role model because she has "pushed her to reach greater heights." "She has motivated me whenever I was at my worst and has inspired me to continue on a bright path. I am very thankful for her in every single way."
Overall, her family as a whole has motivated her to work harder. "They have always emphasized the importance of education, and with that, my mindset grew to focus on success."
Angelyn will be attending Ramapo College in the fall.  She chose Ramapo mostly because she was recruited for track and field and for their strong nursing program. She also mentioned admiring the beautiful and serene campus. "I just pictured myself being there; I felt very comfortable with it," she explained.
After she graduates, Angelyn hopes to be a pediatric nurse. "I believe that my attentiveness and caring strengths have always made me want to be a huge part of the medical field."
Some advice Angelyn has for someone who wants to also achieve Student of the Month is to have confidence and be as involved as possible. "Although good grades are crucial, the activities and service you partake in will always be of utmost importance."
"Keep a planner, do not put everything from each class in one folder, practice on a lesson that you struggle with because repetition will help tremendously, and most importantly, build confidence," she said.