Spanish Language Instructor Ms. Ruiz organizes Multicultural Exchange Assembly
Ambassadors from Spain Mrs. Cristina López and Mr. Óscar Ruiz & Mexico's Consul of Community Affairs Mrs. Alexia Nuñez share cultural heritage with faculty and students
May 16, 2018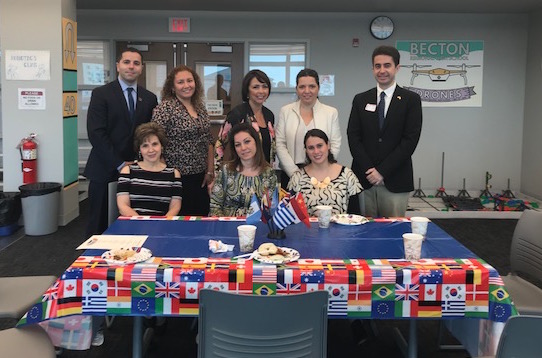 Spanish Language Instructor Ms. Consuelo Ruiz coordinated Becton's first Multicultural Exchange Assembly made up of presentations by ambassadors from Spain and Mexico on May 14. The event, which launched the high school's International Week, included students enrolled in all levels of a world language class.
"The purpose of the assembly was to give students another view of the world outside the limits of the United States, so I wrote to embassies that have students from those regions and countries. I want them to have a distinct outlook and to learn something about different cultures," stated Ms. Ruiz.
The Spanish language teacher then went on to mention that a further purpose in organizing the multicultural event was for the ambassadors to inspire the students to learn new languages and see that when they learn another language, many doors will open. "All in all, I would like Becton students to accept everyone and open their minds to other cultures because in reality, it doesn't matter where students and their parents are from. We are all just human beings." 
"
I want them [Becton students] to have a distinct outlook and to learn something about different cultures."
— Ms. Ruiz
Ambassadors Mrs. Cristina López and Mr. Óscar Ruiz, who work for the Spanish Embassy of Education, spoke to the faculty and student audience about their language biographies. Mr. Ruiz mentioned how he began learning how to speak English at the age of 10 or 11 while Mrs. López began speaking basic English in the sixth grade. "It is never too late to start learning Spanish or another language," she said. "It allowed me to travel and find a better job."
Mrs. López also informed the audience that she spent two years teaching in Mexico. She mostly visits schools in Manhattan, so this is her first time speaking to adolescents in New Jersey.
Moreover, Mr. Ruiz, who used to live in Madrid, stated that one of his goals as an ambassador is to help spread educational opportunities. At the end of his presentation, he stressed how culture is something that should be "a defining, enriching feature of our country."
In addition, Mrs. Alexia Nuñez, Mexico's Consul of Community Affairs, introduced a presentation entitled "Mexican Culture Through the Lens of Its Diaspora." She stated that her specific role is to promote Mexican culture in the tri-state area along with supporting donations of public school books, as well as initiating courses and certification programs. "My job is to work closely with community-based organizations and historic groups to support Mexican tradition," she said. "We are very interested in children remembering their heritage." Also during the assembly, Mrs. Nuñez spoke of the Barrio Roots Mural in Brooklyn and gave brief summaries of holidays such as Cinco de Mayo, Day of the Dead and Virgin of Guadalupe.
As Becton superintendent, Mrs. Clarke hopes the students gained some insight into the different cultures presented. "I hope that they came to the realization that diversity is something that they need to embrace and not shun," she said.
International Week, which is a yearly event that takes place at Becton Regional High School, also includes an International Breakfast for all English language learners and their families, a World Language Honor Society Induction Ceremony, an International Film Festival, and last but certainly not least, an International Luncheon where food is donated from those students enrolled in the school's world language classes, as well as prepared by those students enrolled in Becton's culinary classes.
"The purpose behind International Week, which I have spearheaded for 28 years, has always been to educate and expose our school community to its own diverse population," stated World Language Department Chairperson and ESL Instructor Mrs. Gonzo. She feels strongly committed to this goal every year and best summarizes the week-long event with a quote from an unknown artist, "The beauty of the world lies in the diversity of its people."
Principal Dr. Sforza stated that Becton Regional High School is fortunate to be one of the most diverse high schools in the state and that the students are already deeply aware of other cultures because of the diversity that exists within the school. "Having international ambassadors speak about their culture, values and norms only further enhances students' knowledge through professionals that work daily to promote their cultural heritage. We are fortunate to have had ambassadors from Spain and Mexico visit our school and take the time to further educate our students."