Dr. Khatchig Mouradian presents BRHS students with lecture on Armenian Genocide
April 22, 2018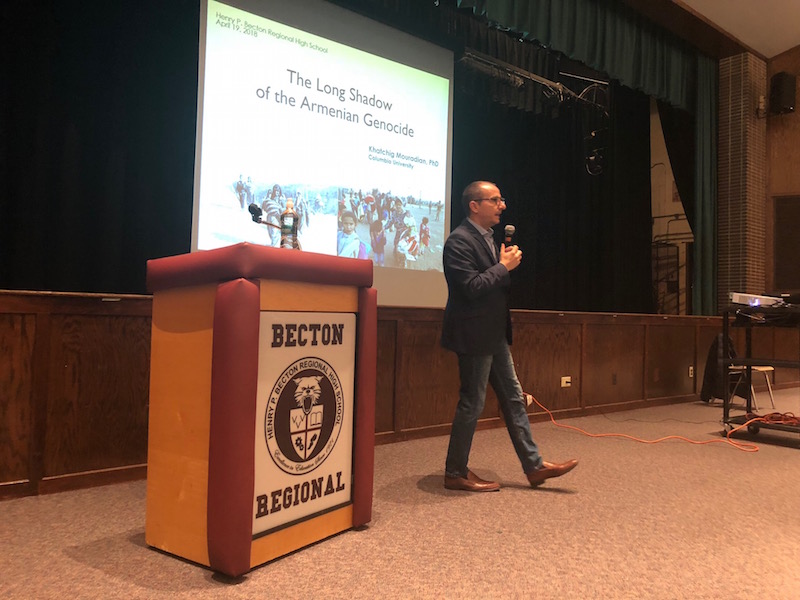 Khatchig Mouradian, Ph. D, a lecturer in Middle Eastern, South Asian and African Studies at Columbia University and Lebanese-Armenian author, visited Henry P. Becton Regional High School to speak to students enrolled in the Holocaust elective and AP United States Government and Politics course on April 19.
The Armenian Genocide, which took place 103 years ago, is commemorated on April 24, so the presentation, "The Long Shadow of the Armenian Genocide," was scheduled during a time designated to the remembrance and prevention of genocide.
The superintendent of Becton Regional High School, Mrs. Louise Clarke, said, "Two years ago, I was fortunate to secure a Holocaust speaker, Dr. Bichler, to speak to our Holocaust classes.  Ever since that time, I have aspired to obtain an Armenian Genocide speaker as well, specifically Dr. Khatchig Mouradian.  It [the presentation] holds a special place in my heart due the fact that my husband and my children share in the Armenian culture."
"Genocide does not end when the killing stops," Dr. Mouradian expressed to the high school audience. "It projects a long shadow, so when we think about crimes today, the challenge is not just providing people with shelter and food, it is thinking about this long shadow of genocide."
He advised Becton students that memories must be passed down from generation to generation and at the same time, reminded them that the Armenian Genocide took place three decades before the Holocaust. "When we talk to a refugee who has been forced to leave his/her home, our goal is beyond providing basic care. It is to think about creating the possibility of putting an end to that long shadow."
Through Dr. Mouradian's personal experience of having a grandparent who is a survivor of the tragic event, he witnessed the first-hand effect of one who has lived through a genocide. Growing up in Lebanon during a civil war, he addressed how he was surrounded by elderly men and women who carried these scars. The speaker recalled that they spoke very little overall and at times, refused to address the massacre of their people. What he found most disturbing from his childhood memories was the shadow of sadness that defined their existence. "Many of these women, particularly, rarely smiled. It's such a chilling thing," he remarked.
Two important points that the college professor continued to stress throughout the presentation was the power of choice and the act of resistance.
"Genocide perpetrators are people just like us who make conscious choices. The perpetrators' choices happened with intentions to destroy a population," noted Dr. Mouradian. His primary focus was to emphasize the strength that people's choices have on society as a whole. According to the historian, life is not about the events that take place, but rather the way people choose to handle the situation. "Our choices determine whether we build walls or bridges."
Another objective of the presentation was to remind students that violent resistance is not always the answer. "Typically when we think of resistance, say in the case of the Holocaust, it's army resistance. Resistance can also come in many other ways. Resistance, first and foremost, has nothing to do with guns. It has to do with the ability to stand up against something," the speaker said.
"Consciously resisting efforts to dehumanize people could save future generations from facing a catastrophe like this. By choosing to resist, we are not fulfilling a duty; we are celebrating humanity," he said.
Sarah Bourouf, a Becton senior enrolled in AP US Government and Politics, stated, "It wasn't just a presentation about numbers and what happened, it was a presentation about the impact of genocides, and it had a much deeper meaning."
Senior Victoria Gramlich added, "Dr. Mouradian opened my eyes to the tragedy that was the Armenian Genocide. He not only explained the history, he explained how we could become involved in activism so things like that never happen again."
According to History Teacher Mr. Ryan, whose classes made up the audience, "Today's presentation reinforced what the students learned about the Armenian Genocide at the beginning of the Holocaust course and helped the students make connections and comparisons to the civil war and genocide taking place in Syria and Iraq, the plight of those still living in these war torn areas and the suffering of those who have fled and migrated to various countries including the United States."
Furthermore, he commented that students found the presentation very interesting and reacted to how the United States government does not recognize these events as a genocide. "They are very curious as to why the nation of Turkey takes such a harsh stance in denying the Armenian Genocide," he said.
Becton Regional High School is one of three NJ high schools visited by Dr. Khatchig Mouradian during Genocide Awareness Month.