Becton football wraps up season with winning record
Coach Maher receives Coach of the Year award
December 9, 2016
The Henry P. Becton Regional High School Football Team has completed a successful season with a record made up of seven wins and three losses, and Head Coach John Maher has also received the Coach of the Year Award for effectively guiding his team to victory.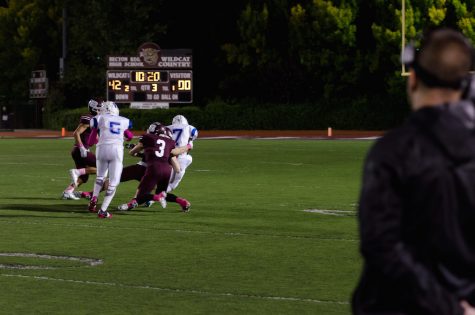 Moreover, the talented Becton athletes also wrapped up the season with an NJIC Patriot Division score of six wins and zero losses.
The list of accomplishments goes on as it was recently announced that Captain Seven Strong has been awarded First Team All-County and Junior Gregory Anderson Second Team All-County both due to their perseverance and skillset on the field.
In addition, the other contributing players who should also be proud of the plays they have performed this season are captains Joe Lesho (LB/RB), Luis Pontier (OL/DL) and Jonathan Rengifo (WR/LB) and players Michael Bolwell (Jr.), Joe Emerson (WR/DB), Anthony Thomas (RB/LB), Dustin DeRado (WR/CB), Charlie Acanfora (OL/DL), Mark Dunn (OL/DL), Nico Failla (LB/WR), Mekhi Davis (RB/DB), Andrew Franco (LB) and Dylan Cortiana (OL/LB).
Athletic Director Ms. Giancaspro said, "This was a successful season for us. We are expected to compete for a playoff spot every year. With an undefeated league title, a playoff victory and being one game away from our goal of playing at MetLife Stadium for a chance to win a state championship, this season would be considered a success."
"It's absolutely incredible that we have made it this far as a team of great players. I can truly say that I'm proud of being captain," stated Senior Luis Pontier.