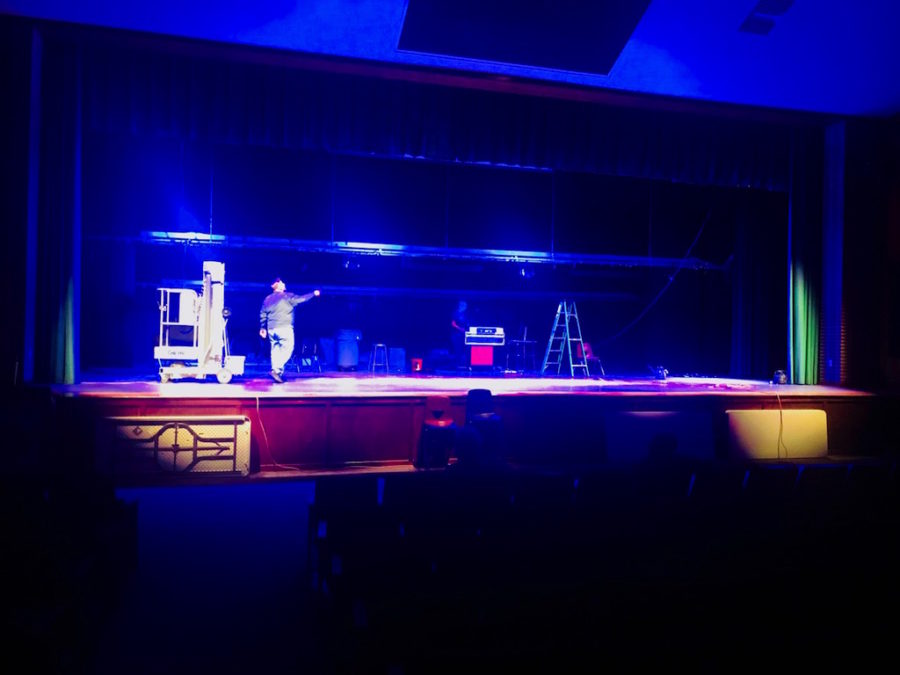 Jenny Marcinkowski
Becton Regional High School's James Williams Performing Arts Center is in the process of undergoing an extensive and notable lighting and sound upgrade.
The lighting, along with the light panel, has not been fully upgraded since the inception of the school in the early 1970s, so the needed update is due to the system being old and outdated.
First and foremost, all lights have been replaced with LEDs, including the stage lighting. As a result, the stage of the high school's performing arts center will now have the ability to light up in a variety of colors.
Supervisor of Building and Grounds Mr. Caputo, who is responsible for upgrading the lighting along with the school's custodial staff, noted how all the different colored lighting now has the ability to illuminate the stage into any type of scenery.
Acting Superintendent/Principal Dr. Sforza mentioned that due to the large size of the auditorium, the school gets many rentals, so they want to be able to provide them, as well as the students, with the best equipment. "We can now give them whatever they want in terms of lights," he said.
Dr. Sforza stated how all the work for the lighting was done in-house. "All we had to do with the lighting project, which is now state-of-the-art lighting that you would see on a Broadway show, is purchase equipment for it." Since the task was completed in-house, the only cost incurred is $56,000 for the lights as opposed to costing roughly $210,000 to $220,000 had they hired an outside company to work on the job. The funds for the project came from a capital reserve account.
In addition to the lighting project, the sound project will begin in the next few weeks.
"All of the sounds in the performing arts center were in need of a major update as well," said Dr. Sforza.
What prompted the renovation was the fact that students, staff, and parents alike were frustrated with the sound issues during performances that Becton community members worked so hard on.
For this aspect of the project, hiring a sound engineer is necessary to completely overhaul the sound in the JW-PAC in order to get the best results. The company they have in mind has worked on numerous Broadway theaters and is located right in East Rutherford.
An aspect of the project will allow microphones to drop down from the ceiling because the headsets that the students are currently using are not working effectively. The sound company will also update the speakers in the auditorium, so instead of having multiple ones, just two will be required.
According to Dr. Sforza, "Our performing arts center will not only be one of the nicest in New Jersey but after the projects are finalized, it will have the functionality of a professional theater."