Ms. O'Driscoll becomes assistant coach for Becton Girls Basketball Team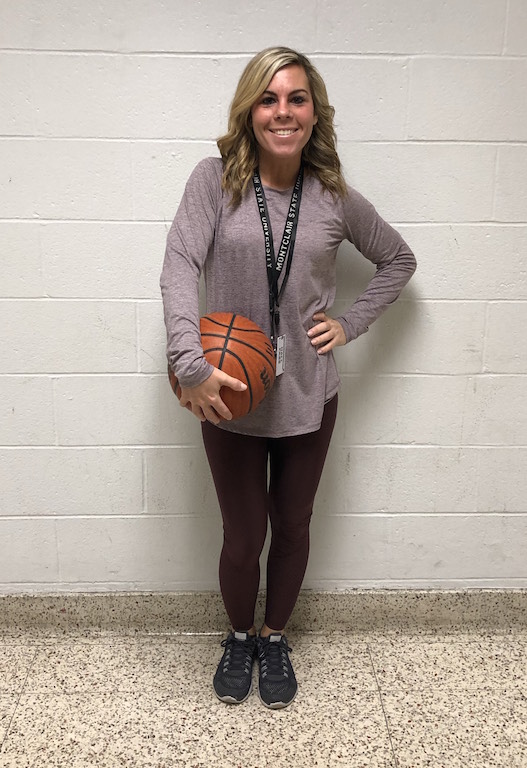 After concluding a successful season as head coach of the Becton Girls Volleyball Team, Physical Education Instructor Ms. O'Driscoll is kicking off the winter athletic program as the new assistant coach for the girls basketball team.
As assistant coach of the all-girls team, Ms. O'Driscoll's duties consist of guiding her athletes through warm-ups before practice, running drills with them, and preparing the group to perform for each game by keeping the positivity and competitiveness within the team.
The physical education instructor is looking forward to teaching all of her players the basic skills of basketball, as well as helping them improve on them, as the season progresses. As for the conclusion of the season, she is hoping that all of her players attain enough knowledge to help them reach the performance of middle to high levels of any basketball games.
Ms. O'Driscoll continued to note how she enjoys interacting with her students in a different atmosphere, rather than in her daily physical education classes, because she gets to see the different personality traits and characteristics that they each exhibit during the course of the season.
Overall, the coach's main goal is to contribute knowledge and skill of the sport to the team and build on positive relationships with both her players and the head coach, Mr. Joseph Colombo. She hopes to build a connection with him enough to be on the same page as far as expectations, goals, and work ethic towards their team.
In addition to being the head coach of the Becton Girls Volleyball Team who reached the second round in the states this year, some of Ms. O'Driscoll's other experiences include being an assistant basketball coach at Wood-Ridge High School, an assistant basketball coach at Wallington High School, an assistant volleyball coach at Wood-Ridge High School, and coach of the girls softball team at Becton.
About the Writer
Monserrath Martinez, Staff Writer
Monserrath Martinez is a junior at Henry P. Becton Regional High School. Monse is excited for the new school year and feels optimistic for any new opportunities...