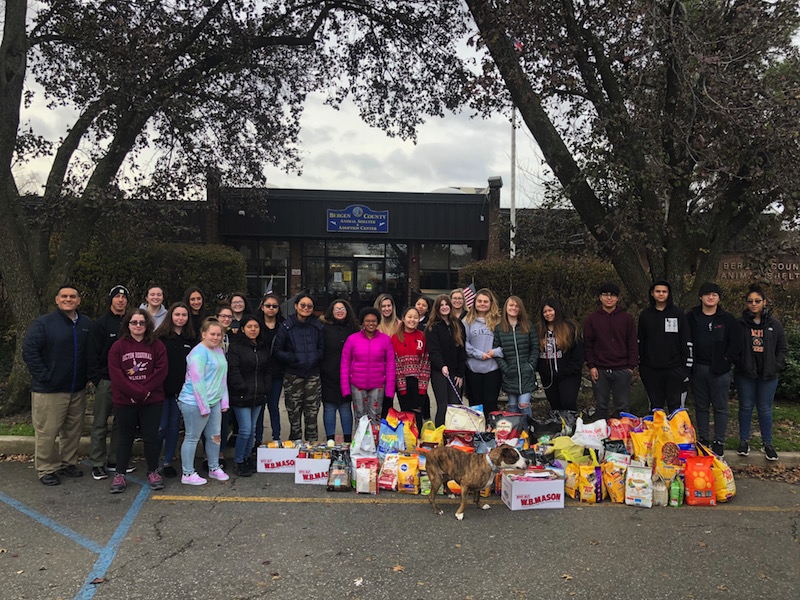 Becton's PAW Club recently visited the Bergen County Animal Shelter and Adoption Center in Teterboro to drop off food donations and meet with the animals. Sixty-three students, along with faculty members, handed in items, and the first 30 to submit donations were permitted to go on the trip to drop off them off.
All participants packed the bus with a variety of dog and cat food and unloaded the bus as they were greeted by Ace, a pitbull that often roams around the lobby area of the animal shelter. "We dropped food off and met the kittens, cats, and dogs. We even got to feed them treats," said the club's founder, Senior Cindy Muco. 
The club members were then able to take a picture with the dog and the food that they donated.
Upon arriving at approximately 1 p.m., which is the time the shelter opens to the public, the members witnessed the employees cleaning the animal cages and the veterinarians checking in on some of the animals. At the shelter, they also perform much of the work that veterinary clinics do such as completing surgeries.
Dana DePalma, one of the workers, said how most of the supplies the dogs receive such as food, blankets, and collars are all through donations. She stressed how important is to donate because it is one of their main sources of supplies.
"This was the first successful event of my club; therefore, I was so happy with the way things turned out. We were able to go inside the shelter and meet many loving animals. They were beyond grateful for the food and told me personally that all the food would not go to waste," said Cindy. 
It was also noted that they have roughly 400 cats there alone and approximately seven employees taking care of them. Ms. DePalma stressed how important it is to volunteer at the shelter and added how they are there practically every day, even during holidays and natural disasters because the animals simply cannot take care of themselves and need to be fed.  
"We have many more PAW Club field trips planned for the future. We have talked about going to friendly zoos, volunteering at farms, and donating supplies and toys for the holidays. So be ready because we have much more to come!" exclaimed Cindy.
Accompanying the students on the field trip were the club's moderators, Mr. Maucione and Mr. Settembrino.