Nozka, Bolwell & Lesho place in VFW Voice of Democracy Contest
Hang on for a minute...we're trying to find some more stories you might like.
The winners of this year's Voice of Democracy Essay Competition are juniors Alyssa Nozka and Ashley Bolwell and Senior Alyssa Lesho. The contest applicants are all enrolled in Mrs. Lonergan's public speaking course.
The essay writing competition has been hosted by the Veterans of Foreign Wars (VFW) since 1947, and each year, approximately 40,000 high school students compete for more than two million dollars in scholarships and incentives. To win, students compete by writing and recording an audio essay based on a patriotic theme. All entries start at the local VFW post level and work their way up to winning the top scholarship worth $30,000.
The Voice of Democracy 2018-2019 theme is Why My Vote Matters. This theme gives the students a wide range of ideas to write about and allows participants to give an inside look on their personal experiences. Many use the writing piece to elaborate on how they want their voices to be heard throughout society.
First place winner, Alyssa Nozka said, "I was surprised [about placing first] because there were a lot of good essays in the class. Writing the essay and reading it aloud allowed me to open up more in public speaking and in turn, feel more comfortable."
When placing second, Ashley Bolwell felt excited. "I feel proud of myself for earning second place although I was honestly quite shocked. There were a lot of great speeches written, but I'm very happy that I was in the top three." The goal for Ashley was to write a speech that got her point across but getting second place was a nice bonus.
Last but certainly not least, coming in third place, Senior Alyssa Lesho felt honored "because there are many good writers and speakers in the class."
To continue, during the month of February will be an awards ceremony where the students will be given the opportunity to read their speeches. Mrs. Lonergan, the VFW Veterans of Carlstadt and East Rutherford, and the three winners along with their families will be invited to attend. The Becton students will each receive a monetary prize and a plaque.
"I am very proud of this year's winners. Their essays were extraordinary, so I'm excited to see how far they will move in this year's competition," said Mrs. Lonergan.

About the Writer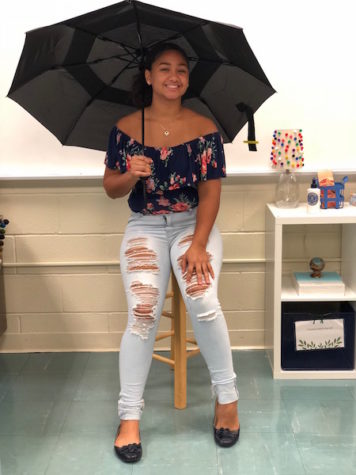 Samirah Reyes, Staff Writer
Samirah Reyes is a 15 year old sophomore who attends Becton Regional High School. She enjoys playing both volleyball and basketball at school. Her favorite...