Exchange students attend BRHS to grow academically, socially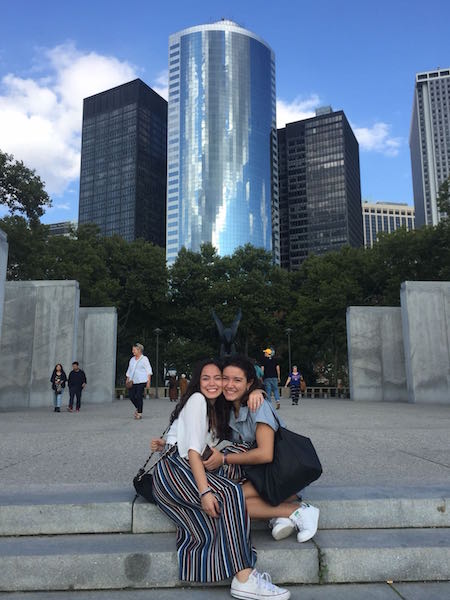 Juniors Maria Gutierrez and Irina Lopez are cousins who traveled from the Canary Islands of Spain to strengthen their English speaking skills and gain further insight into the United States while attending Becton Regional High School.
"The people here are so kind. In fact, they have tried to speak our language in a way to greet us and be able to connect with us," said Maria.
The exchange students' courage has driven them to make their most difficult and life changing decision, which is to leave their family and friends back at home for a few months.
After attending Becton from September through December, Maria and Irina are planning on returning back to Spain. Although their education here will only be for three months, they have already made the best out of their experience.
Maria and Irina are overwhelmed the most by Becton's school pride during sports and activities. However, the exchange students are finding it difficult to acclimate to the high school's scheduling system, since at their previous school they were accustomed to attending each of their daily classes with the same classmates. In Spain, Maria attended IES Mencey Acaymo High School and her cousin Irina attended IES Viera y Clavijo High School.
During their time left in the United States, the girls hope to accomplish even more goals that will further them not only academically but also socially. Filled with great excitement, the two students have visited Manhattan and explained that it is their favorite place in America so far.
"This experience has opened our minds and given us a new way to view life," Irina mentioned.
Although the two young ladies began learning English at three years old, they wish to improve on the language and gain a different learning experience that will set them apart from their classmates back at home.
In the future, the exchange students plan on working with children and both have set a goal to attend college in Spain and pursue a teaching career in order to soon become elementary school teachers.
Becton's Active Vice Principal Mr. Bononno stated how he loves having students from other countries attend Becton. "I think that it has several benefits including having our students exposed to kids from other cultures and other parts of the world," he stated. He then went on to add, "For the young ladies or any students, I think it's a positive experience that helps bring our world a little closer."
About the Writers
Aminah Iqbal, Staff Writer
Aminah is a fifteen year old sophomore at Becton. She is very shy and socially awkward around new people, but once you get to know her, she can be the...