CEV Staff
Becton Regional High School Principal Dr. Dario Sforza has been recently appointed by the Carlstadt-East Rutherford Board of Education to fulfill the role of Acting Superintendent/Principal of the high school.
Dr. Sforza believes that his long line of experience related to education and ability to work well with various stakeholders has prepared him for this newly acquired position and recalls feeling extraordinarily humbled and honored at the moment of the announcement.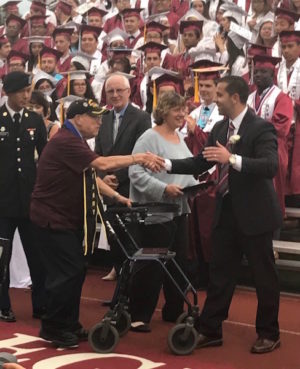 "All my life I try to simulate practice and prepare for opportunities and the unexpected, so if the circumstance presents itself, I have the qualifications and experience to be able to seize the opportunity with confidence and excitement," he stated.
The administrator's postgraduate studies and completion of a Doctorate in Education Degree (Ed.D.) from the Department of Education, Leadership, Management and Policy at Seton Hall University adds to the list of accomplishments that makes him qualified for this career transition. 
"Both positions are extremely important, serious leadership roles, and my goal is to plan on continuing a path of excellence and innovation at Becton Regional High School for years to come," he said. 
Moving on, Dr. Sforza finds that the most challenging aspect of his two leadership roles is balancing the responsibilities for each of them. For instance, the superintendency involves interacting closely with the board of education and having more oversight of the board's monthly and yearly agenda, budget, policies, and resolutions. In addition, a superintendent incorporates more relations at the state, county, and local level and holds the title and responsibilities as the chief school educator of the district. At the same time, the principalship requires further involvement with the faculty, staff, and students. The administrator noted that he has worked on finding areas where he can give each role about the same amount of attention and as a result, still be successful.
The most rewarding aspect for Dr. Sforza is still maintaining his position as principal. He likes that he is still extremely connected to the teachers and students. He never wants to forget where he came from and mentioned how he comes from humble beginnings and hopes to offer students the opportunities that he did not have when he was young. He spoke of being a first generation child whose first language was not English, so he is able to better understand and empathize with some of the personal and academic challenges that some students at Becton may experience.
"Overall, I feel extremely blessed, excited, and motivated for this career move because of the positive energy and overwhelming support from the students, parents, teachers, and staff who I am surrounded by. Together, we will continue the tremendous progress we have already made and ensure a path of innovation for the greater Becton School Community well into the future," stated Becton Regional High School's newly appointed Acting Superintendent/Principal.