September Student of the Month: Alyssa Lesho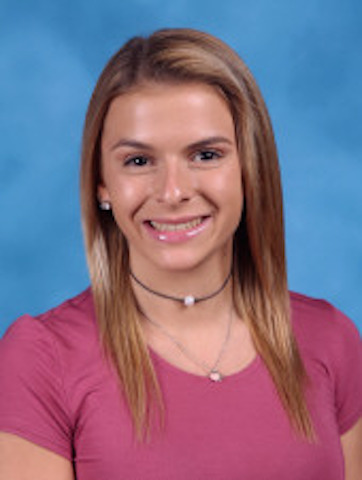 Alyssa Lesho is kicking off the 2018-2019 school year as Becton Regional High School's first Student of the Month.
"I've been working very hard in school, and it has truly paid off," the high honor roll student stated.
Alyssa is currently ranked at the top of her senior class with a 4.0 GPA resulting in her securing a spot in the National Honor Society and Spanish Honor Society. In addition, she also participates in many extracurricular activities such as Girls Helping Girls, Key Club and Peer Leadership. Apart from academics, Alyssa is captain of the Becton Varsity Cheerleading Squad and has also been a member of the track and field team since her freshman year. In fact, the most challenging part of high school for the September Student of the Month is keeping up with her schoolwork while also being active in numerous extracurricular activities.
Moreover, the senior finds pleasure in many of her high school classes. "I have many classes that are my favorite this year with Calculus Honors being one of them because I truly enjoy math. I like Forensics, TV Broadcasting and Entrepreneurship because they challenge me to think creatively. I also enjoy English because Becton has the best English teachers you could ask for."
During her spare time, the Student of the Month enjoys hanging out with her friends and family and staying active. "I enjoy coaching my Mighty Mite Cheering Team," she added.
Someone who Alyssa idolizes is her older brother. "I look up to him because he is always striving for success, and he never gives up no matter how hard things get. Furthermore, my parents have always encouraged and motivated me to work hard and focus on school."
The senior plans on applying to the University of Rhode Island, Sacred Heart University, Quinnipiac University, the University of Delaware, Fordham University and James Madison University. "I am hoping to get in to all of these schools, so I can have a wide variety when choosing the school that fits me best," she noted.
After high school, the honor student plans on pursuing a career in the business, accounting or mathematics field.