May Student of the Month: Rebecca Collette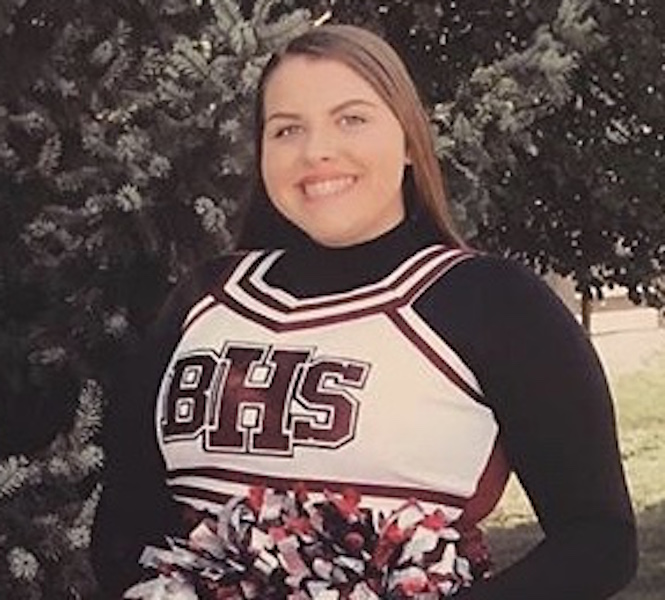 Senior Rebecca Collette has been selected as May Student of the Month due to the outstanding academic performance that she has presented throughout her four years here at Becton Regional High School.
Rebecca is excited to announce that she will be attending Rutgers University-New Brunswick in the fall and will be studying social work with a possible double major in either public health or psychology. "What I liked about Rutgers is the abundance of school spirit and vast opportunities I would have on campus. With it being quite a large campus, it gives me the ability to create new friendships and find clubs and activities that fit my personality."
Rebecca served as captain of the debate team this season and is also vice president of the National Honor Society. Apart from academics, she was captain of Becton's cheerleading squad. She also participates in a wide variety of clubs, ranging from National Honor Society to peer leadership. "Being involved throughout the school definitely boosted my school spirit and overall high school experience. If I had to leave one piece of advice for incoming freshmen, or even anyone currently in Becton, I would tell them to stay involved in the school with both sports and academic clubs. There is no doubt that there is a club you would be interested in joining, but if not, create your own. Staying involved in the school allowed me to make new friends and awesome connections with my coaches/advisors."
Some of the Student of the Month's favorite classes at Becton Regional High School are calculus with Mrs. Ferris and physical science taught by Mr. DiDomenico. She also enjoyed her psychology course taken through virtual high school. "Having Mrs. Ferris as a teacher this year allowed me to have someone there to discuss my college plans. As for Mr. DiDomenico, I had him for AP Biology last school year, and taking physical science offered me a fun elective to take my senior year as a summation of the science classes I have taken over the last three years."
The most challenging part of Rebecca's academic career was her junior year at Becton. "I was enrolled in AP Biology and AP US History 2, along with Honors English and Pre-Calculus. I was taking a major course load, so there was an abundance of homework and other assignments, but it also helped me learn how to manage my time and prioritize."
Outside of school, Rebecca volunteers for numerous events such as the "Sensitive Santa" event through the Carlstadt Volunteer Ambulance Corps. Sensitive Santa is a holiday themed event for children with autism or other special needs that need more of a relaxed setting when trying to get a picture with Santa. They allow them as much time as they need, as well as a welcoming environment. Moreover, Rebecca works at the Bagel Store on the weekends.
During her senior year, Rebecca has participated in an internship for Bergen's Promise, which is a care management organization located in Bergen County. While working in a social work office setting, she assisted in filing paperwork and occasionally was given the opportunity to go and meet with the families. "This internship significantly strengthened my interest in pursuing social work in college, as well as opened my eyes to possibly taking a few courses in public health. I have made so many connections while doing this internship, and altogether, they assisted in helping me see the path I would like to accomplish to become a social worker," the honor student stated.
Rebecca considers everyone at her internship her role models due to the fact that they had an impact on her overall outlook on life and what she could truly accomplish. "Everyone here is doing exactly what I wish to be doing one day in my life, and being able to see what they accomplish on the job let's me know what my life will be like in just a few years. They allowed me an insight on what I can do with my life, and how I will one day be benefiting so many lives."
Rebecca's plans after college include working for a foster care system or child protection services. "While interning, I saw a lot of children who did not live an ideal life. Seeing the struggle they go through every day made me realize how many adolescents are going through the same issues but don't have the opportunity to seek help. Working with an adoption/foster care system would let the children in care be able to receive the help they deserve. As for child protection services, they will ensure that the child is in a safe environment."
About the Writer
Misha Asim, Staff Writer
Misha Asim loves to hang out with her friends whenever she has the time and loves watching shows on Netflix. She enjoys hanging out with her sisters and...