Becton's Kruse & Demian both place in Mid-Bergen essay contest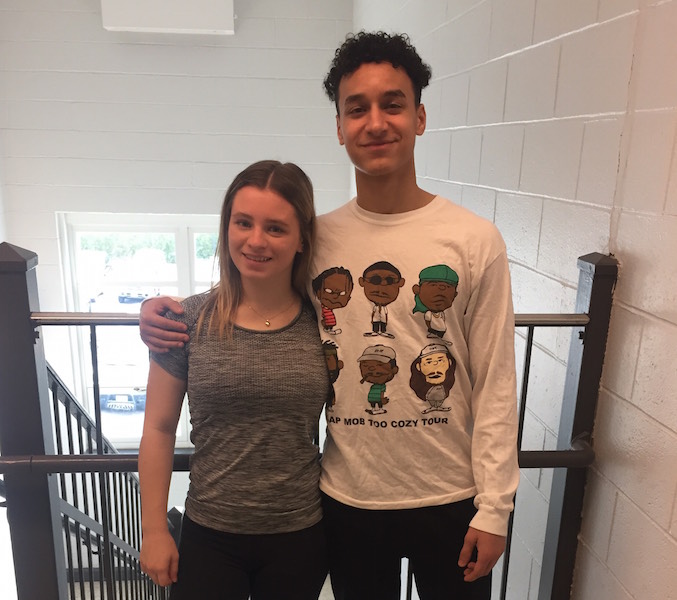 Becton Regional High School Junior Paige Cruz and Senior Kyrillos Demian placed first and second in the 2018 Mid-Bergen Rotary Club 'Four-Way Test' Essay Contest.
The purpose of the Four-Way Test is to promote truth, fairness, good will and friendship in people's lives. Those who enter the essay contest are encouraged to show how ethical behaviors help foster a productive life. The test was created in 1932 by a Rotary Club member, Herbert J. Taylor, and asks the following four questions of the things that people think, say or do: Is it the truth?, Is it fair to all concerned?, Will it build good will and better friendships? and Will it be beneficial to all concerned?.
Paige Kruse stated that she feels very "honored and lucky" that her essay was good enough to place first.
Paige's topic described her personal experience with gossip and how moving forward, the Four-Way Test can continue to help improve her life and the lives around her. "The Four-Way Test is a philosophy of respect and understanding among people to help improve their lives," stated the Becton junior. She will be receiving a plaque and a one hundred dollar prize.
Kyrillos Demian who placed second said, "It feels very special to me. It means a lot to get my words out to other people." The senior's topic was about bullying and friendship. "Treat everyone how you want to be treated, and view everyone as equal." He will be receiving a plaque and fifty dollars.
English Department Chairperson Mrs. Cannarozzi was "very proud and not very surprised that both Paige and Kyrillos placed during the contest because they are Becton students." She discovered the contest when Mr. Forrest Elliot from the Rotary Club reached out to her in an email.
"I'm extremely proud of the winners. They worked extremely hard, and they deserved to win," stated Public Speaking Instructor Mrs. Lonergan who helped administer the essay contest.
A congratulatory dinner for all winners will be held at the Holiday Inn located in Hasbrouck Heights on April 24 from 6 p.m. to 8 p.m.
The first meeting for the Mid-Bergen Rotary Club 'Four-Way Test' Essay Contest was held on February 8, 1962. It was originally known as the Teterboro Rotary Club; however, as the 1960s progressed, members from surrounding towns such as Wood-Ridge, Hasbrouck Heights and South Hackensack began joining the club, which prompted it to change its name to 'Mid-Bergen.'
About the Writer
Safa Hassan, Staff Writer
Safa Hassan loves to go on adventures. Her favorite thing to do is write, swim, and explore her interests during her free time. During the weekend, Safa...