Mr. Kim makes smooth transition into Becton's math dept.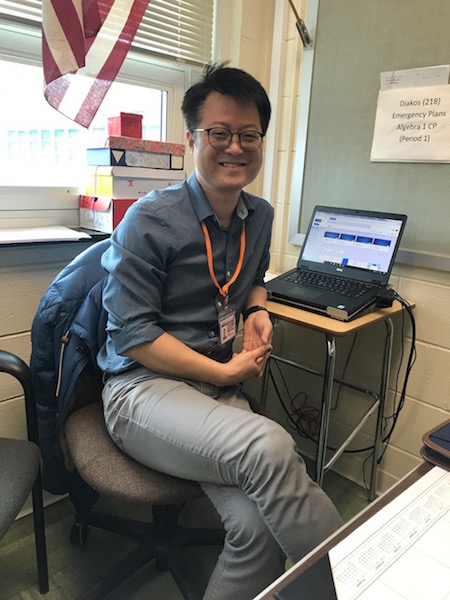 Due to Mrs. Diakos' maternity leave, a new mathematics instructor, Mr. Jong Kim, is a recent addition to the Becton family. Mr. Kim is currently teaching two Geometry Honors classes, three Geometry CP classes and one Algebra 1 CP class.
"This school is really clean and well organized, and the teachers, staff and students are super friendly and nice," said Mr. Kim. "I feel like the teachers are always ready to help me whenever I have questions about the school system. In addition, the students here are enthusiastic to learn."
The math teacher graduated in South Korea in 2002 with a bachelor's degree in math, and his experience includes teaching at an afterschool math program located in Closter, NJ. From there, he continued to develop his teaching skills by earning a master's degree in mathematics and working at The Bronx High School of Science located in New York City.
Mr. Kim's dedication and admiration towards helping students learn is what inspired him to become a math teacher in the first place. "I love helping people. I want to help students think about mathematics differently because many students think it is something to be afraid of." He believes that if adolescents understand principles and definitions of mathematics more accurately, "they will be able to improve their math ability undoubtedly."
His future goals include developing more afterschool programs and classes based on students' needs and interests in public schools. Mr. Kim stated that he would also like to continue to work in a public school to see student motivation develop over time.
Upon arrival at Becton, a challenging part of the new math teacher's job was being able to connect with the students and interact with them. "I felt that students took some time to comprehend my sincerity and intentions at first due to my accent." But those concerns were effortlessly overcome. "Now I'm definite that we have a connection," he said.