BRHS participates in national walkout to protest gun violence
18 school shootings this year alone prompt change throughout the nation
March 14, 2018
Hundreds of Becton Regional High School staff members and students participated in a nationwide walkout at approximately 10:00 a.m. on March 14 to commemorate the 17 lives lost at Marjory Stoneman Douglas High School in Parkland, Fla. on Valentine's Day.
Immediately after staff and students gathered in the hallways outside of their classrooms, a group of 17 individuals announced the names along with a brief description of each life that the Parkland community has lost. Following this, a select few students read speeches informing their peers about topics such as what measures can be taken to help prevent tragedies that are a direct result of gun violence.
Junior Lisa Squeo first approached the Becton Administration about coordinating this student-led event. "I felt like there was more to be done than giving condolences and sending prayers." The Becton junior stated that her initial intention was to honor the students and teachers that lost their lives, but after meeting with her classmates, she realized that there was more critical information to relay during the event. "We as a generation have so much more power than we think we do. We have the right to fight for what we believe in," she said.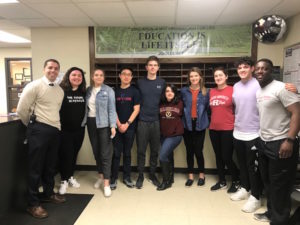 According to Student Council Adviser Mrs. Scalera, there have been numerous meetings since winter break ever since Lisa took the initiative to introduce and organize the walkout.
"It could happen at any school in America. I believe it is a good thing that kids are using their voices to speak out in order to make a statement," said Mrs. Scalera.
Senior Luke Maffia, who also helped coordinate the school-wide event, mentioned that he hopes students can come to a realization from the walkout that inspires them to want to change our country for the better.  Luke was asked by a few of his friends to join the committee, and he eagerly agreed. His strong stance against gun violence is well known by his peers, and he wanted to take this opportunity to channel his beliefs to the students at Becton to motivate them to advocate for the same change.
"It is very unfortunate that the day we are supposed to celebrate love and kindness at its most turns to be a day where 17 students and teachers could not make it back home to their families ever again," stated Senior Victoria Gatopoulos in a speech that she wrote for the event. She continued to stress the point "If you see something, say something."
Others who helped organize the protest and also read heart-felt speeches are seniors Victoria Gramlich and Lauren Kaszka.
The walkout then concluded with a moment of silence for all those killed due to gun violence.
"I believe it is unfortunate that we have to rally, but it is great that it is a peaceful response to make people aware," sated History Teacher Ms. Valentino. "Becton has a strong sense of community."