NJ Dept. of Ed. recognizes BRHS as 'model high school'
March 2, 2018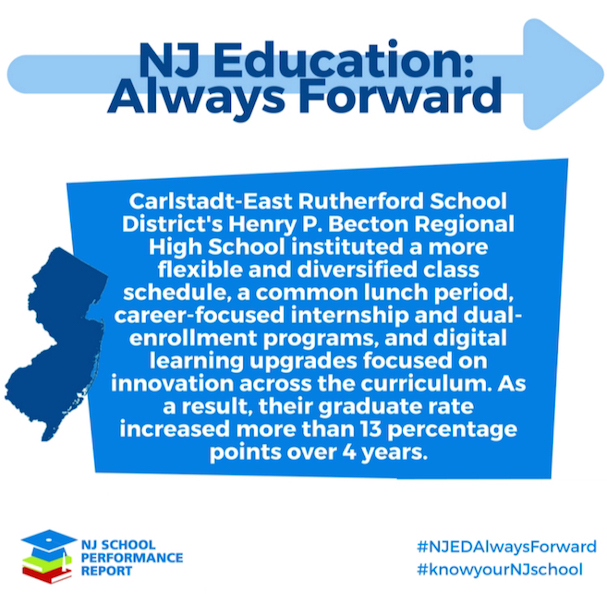 The Becton School District is proud to announce that the New Jersey Department of Education (NJDOE) is categorizing Becton Regional High School as a model high school based on the educational institution's recent academic success and implementation of career-focused programs.
Regarding the 2016-2017 NJ School Performance Report, the NJDOE is also commending the exponential growth of the school's graduation rate over the past few years with the most recent 2016 and 2017 graduation rates reaching 98 and 97 percent respectively.
Additionally, the high school's learning environment is being noted for its flexible and diversified class schedule, common lunch period, career-focused courses, internship and dual-enrollment (college credit) program, and digital learning upgrades.
"It is an honor to be recognized by the NJDOE, and it is very important that the residents of East Rutherford and Carlstadt are aware of this recognition.   The board of education will continue to work with the administration, staff, and students to continue to provide an exceptional educational opportunity," stated president of the Becton Board of Education, Mr. Robert Anderson.
The Becton Administration believes that the recognition by the NJDOE is a testament of the wonderful work that the teachers, staff members, educational leaders, and students are completing daily and a confirmation to stakeholders within the Carlstadt and East Rutherford communities of their unwavering support and commitment to continuously improving and moving their hometown high school forward.
According to the NJDOE, the goal of a School Performance Report is to measure data beyond a school's test scores and include information such as the staff, student discipline rates, and the sports and clubs offered at the school. The purpose of the report is to share school information with parents, educators, and community members.