Ms. Giancaspro & Ms. Sammarone to coach girls JV basketball team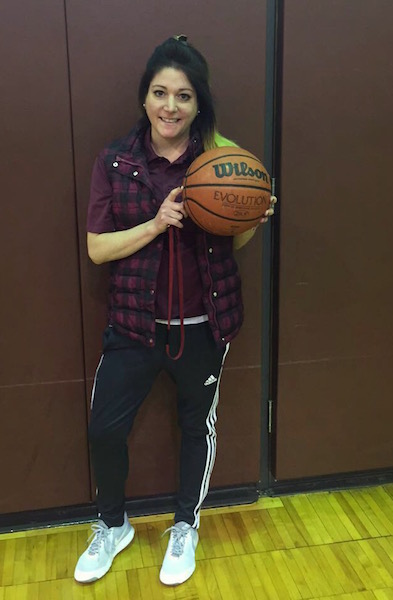 Athletic Director Ms. Giancaspro and Physical Education Teacher Ms. Sammarone have taken on the position as the girls junior varsity basketball coaches for the 2017-2018 school year.
As one of the in-house assistant coaches for the junior varsity team, Ms. Giancaspro's ultimate goal is to increase the number of interested basketball players and in turn, result in a successful season.
This is the first time that Ms. Giancaspro will be coaching her very own Lady Wildcats basketball team; however, in the past, from 1993-2002, she has coached other school's basketball teams.  When the athletic director was a student at Becton Regional High School, she was an all-league and state player who scored over 1,000 points during her career.
Coach Giancaspro will focus on building a strong team and wants to pass on her knowledge and passion of the game to her players. The athletic director noted that she hopes the Becton athletes will demonstrate a high level of intensity and dedication throughout the season.
"I want to be a positive role model in a student's life through education and sports," she said.
Moving on, this is the first time Ms. Sammarone will be coaching basketball; however, she has been coaching softball at Becton for three years.
The physical education teacher is very excited to start her new role as a Lady Wildcats basketball assistant coach and is looking forward to bringing the girls basketball team to many victories.
Ms. Sammarone is looking to focus on the team's growth along with improving the players' skills.
"I want to build a positive relationship with mutual respect between the players and myself. During the season, the girls will work hard at practices in return for a competitive and successful season.  I am also hoping to build on the girls' strengths and encourage them to push themselves to their limits so that they give their full potential. The character that we are hoping to instill as coaches to our players builds the type of person an athlete should show on and outside of the court," said Ms. Sammarone.
Both coaches, Ms. Sammarone and Ms. Giancaspro, are looking forward to having a successful season accompanied with hard work and dedication. Moreover, their objective is to build a strong program while being an active role model for the girls.
The official winter sports season starts on Monday, November 27. Tryouts will be on Monday, November 20, Tuesday, November 21 and Wednesday, November 22. The coaches encourage students with no experience to participate as well. Pending the turnout, they are also looking to have 15 girls on the junior varsity team.
About the Writer
Safa Hassan, Staff Writer
Safa Hassan loves to go on adventures. Her favorite thing to do is write, swim, and explore her interests during her free time. During the weekend, Safa...