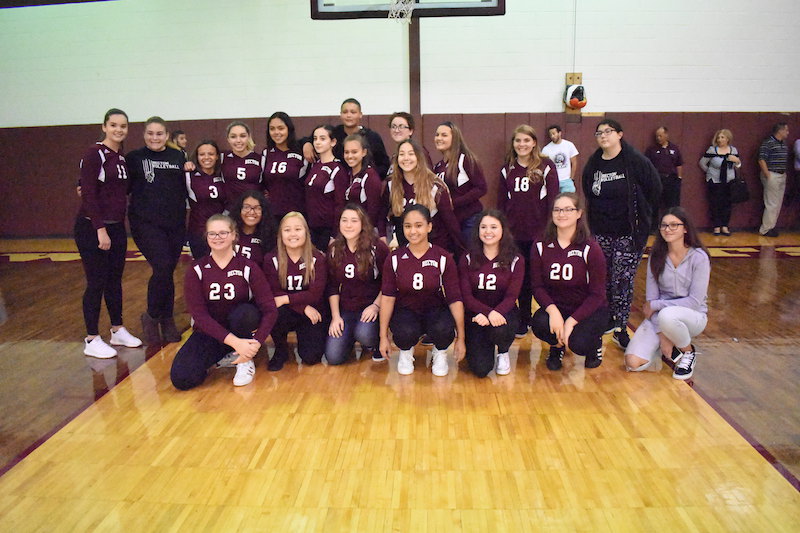 Nina Garcia
With a 1-1 win against Wallington High School on September 12, the Becton Volleyball Team is off to a strong start.
According to Head Coach Ms. O'Driscoll, the team's biggest opponents this year are Wood Ridge High School and Hasbrouck Heights High School. The Becton Volleyball Team is also eager to play the annual Battle of Paterson Avenue game against Wallington High School.
Ms. O'Driscoll's major goal this season is to increase last year's game record by improving the team members' skills and experience. She hopes the team works together as one in order to come back on top.
Furthermore, the coach noted that this year's team has potential. She stated that if the girls are able to communicate and work together, they will be able to do well this season.
Her expectations are to have double-digit wins, and she also expects to have a season record of at least 500, which would allow them to make it into states this year.
In order to motivate her team, Coach O'Driscoll reminds the members of their potential and confidence to win. She also tells her team to "play until the end". She stated that the girls have to earn the points, and to do so, the team must be one, not divided.
On a daily basis, the team focuses on bonding together and communicating with one another on the court. "They have amazing sets and strong hitters with consistent servers," said the coach.
The returning players from last varsity season are Salome Siradze, Jordyn Barra, Lisa Squeo, Yaren Ummak, and Justina Cabezas.
The two seniors on the team are Justina Cabezas and Yaren Ummak. Both are starters, and this is Yaren and Justina's second year on varsity. Yaren plays setter and Justina plays middle blocker. "They both come to the games ready to play," said the coach.
To motivate their teammates, Yaren Ummak's well known quote is "No matter what, we'll always be a family together." As for Justina Cabezas, her advice is to "Keep your heads up even when we don't do well."
Sophomore Jilian Kaszka, who previously played at the JV level, is a starting varsity player this year. Junior Jerica Mercado is on the varsity team and plays back row. Junior Jaylen Nuila came back from last year's jaw surgery and plays varsity middle blocker. "She's [Jaylen] able to find the ball well at the net," said Coach O'Driscoll. Keila Medina, who played on the JV team her sophomore and freshman year, plays varsity this year. She also plays front row and back row. "She [Keila] has really nice hard serves," said Ms. O'Driscoll.
Coach O'Driscoll also mentioned that the JV girls are improving day by day and their skills are getting better after each practice and game.