May Student of the Month: Skyla King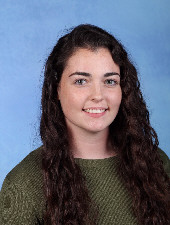 Skyla King has been awarded Becton's Student of the Month for the month of May. Her hard work and dedication has earned her a GPA of 96, and is ranked seventh in the senior class.
Skyla has taken many challenging courses over her four years in Becton, classes such as: US History AP, Chemistry A, AP Physics, Calculus Honors, English 12 AP, and many more. She has been a part of the soccer and basketball team for all four years. She is also a member of Girls Helping Girls, Peer Leadership, National Honor Society, and Spanish Honor Society. Apart from working at Shop Rite, she has dedicated her time to tutor children and volunteer in the senior-senior prom. Skyla states: "It's an honor because is shows my hard work and the things I did in high school hasn't gone unnoticed."
The honor student would like to thank her mother for keeping her motivated and making sure she is on top of all her school work.
Skyla will be attending the University of Scranton in the fall of 2016 as an Exercise Science major. All her hard work in Becton has paid off because she is guaranteed a seat in the Doctor of Physical Therapy Program in Scranton.
Her goal in the future is to graduate college and get a good job as a physical therapist. She plans to open up her own practice and help people with their injuries.
Skyla is excited to see what's out there in the world and be on her own when she leaves to college. Although she is happy to leave, she will miss how small Becton is, how everybody knows each other, the comfort of the school, and being with all her friends.
Her favorite teacher, Mrs. Scalera, only had many good things to say about her, "I'm thrilled she's going to the University of Scranton next year because that is my alma mater. She will be a perfect fit." Mrs. Scalera also added that she loved that Skyla worked at her favorite store, and is hardworking and dedicated. Lastly, Mrs. Scalera loved having her for two years in English.
If Skyla's not studying, you can find her watching her favorite shows, Grey's Anatomy, One Tree Hill, and Gossip Girl on Netflix. She also likes hanging out with her fiends. Her favorite artists include Drake, Rihanna, and Bryson Tiller. Skyla loves any kind of pizza and chicken nuggets.
Skyla's word of advice to the freshmen is, "Make sure you do all your work and take it seriously because it will affect your junior and senior year when looking into colleges."