Fifth studio album, Death of a Bachelor (DOAB), from Panic! at the Disco scores band their first #1 album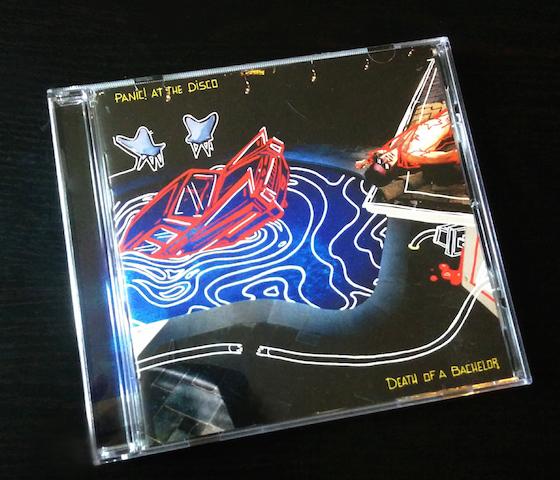 American rock band Panic! at the Disco (P!ATD) recently released their fifth studio album. The track list includes singles "Hallelujah," "Victorious," and "Emperor's New Clothes." Brendon Urie, lead vocalist of P!ATD wrote and recorded the entirety of the album. DOAB is not only the band's first number one album, but also their highest grossing album. To celebrate their newest album, the band is going on a two month long summer tour in North America with American Rock Band Weezer.
"I'm going to see them on July 5 with my best friend," said Sophomore Annjanette Serrano. Though she isn't a huge fan of either band, she has been a follower of Panic! at the Disco for upwards of a year.
On the other hand, three year fan and Becton student Seamus Cahill said, "Unfortunately, I will not be able to attend any shows this summer because I will be on vacation."
While the band features three amazing singles, the album as a whole has a lot to offer. The first track on the 11-track album is "Victorious." This is an upbeat start to the album showcasing Urie's vocal abilities and his lack of athletic skills. "This song has a Sinatra-esque, Beyonce beat thing. It makes me want to tackle something. I wanted to have something to amp me up. It's about having that confidence and being like 'Yeah, I could be the greatest, I just have to push myself to do it.' I just kept chanting 'S-P-O-R-T-S' the whole time in the studio. It was fun," stated Frontman Brendon Urie.
Next on the album is "Don't threaten me with a good time." This song refers to Urie's nights of partying. Throughout the song there are samples from the B-52's "Rock Lobster." Following this song is the single "Hallelujah," which is about a lot of things. Infidelity, friendships, letting go and not feeling bad about the past are the main mentions of the song. "Hallelujah" happens to be a favorite among Becton students along with "Don't Threaten Me With a Good Time" and "Emperor's New Clothes," which is the next song on the track.
"Emperor's New Clothes" has eerie notes accompanying Urie's ranging vocals. At one point in the song, right before the chorus, Brendon adds a high note to help ease the verse in smoothly. He felt that the song was missing something and that something was an outstanding note. The song is about Brendon finally getting what he thinks he's deserved this past decade; he's stepping up and taking what's his, the band.
At the midpoint of the album is "Death of a Bachelor," one of my personal favorites. Urie plays a melitron sample in the background of the song and says the song is heavily inspired by Sinatra. The title phrase "death of a bachelor" represents a massive life change: going from a single partying man to a responsible married man. "For 'Death of a Bachelor,' I wanted to get back to writing on real instruments, like piano," said Urie being that their last album, Too Weird to Live, Too Rare to Die, was written and produced mostly on a computer.
Another favorite of mine is "Crazy=Genius," the sixth track on the album. This whole chorus is formed on the idea that if being crazy is the same as being a genius, then he classes himself as a genius. Hence "I'm a rocket scientist" or "I'm an arsonist" both 'jobs' which seem to need high intelligence, comparing his craziness to the likes of this level of genius.
"La Devotee" is Urie's dark ode to Los Angeles. The song features a key change that usually goes unnoticed. The song starts in E major, then goes to E minor, then it goes to F major, putting the song in 3 different keys.
Moving on, in a part of "Golden Days," Urie tries to emulate Weezer's "My Name is Jonas." Brendon is lamenting the inescapable passage of time, and how memories, like people, can become less bright and colorful as they age. In contrast to the start of the chorus, Brendon promises that the strength of their love will keep their happy memories from fading, so they can live in their "Golden Days" forever.
Brendon is encouraging his fans to fight for what they believe in and make change happen in "The Good, the Bad and the Dirty." If you want to fight for or against something, you have to go all-out to defeat it, otherwise there's no point trying. Urie originally used the lyrics because he likes the sound, but as time has gone on, he said the song has gained meaning in his personal life.
Though the true meaning of "House of Memories" isn't clear, it seems like Urie is speaking of the concept of leaving the life of a bachelor behind, the narrator is moving out of his house of memories and into his place in the new "house" he and his wife have built together. The song originally started in his house on the piano, but then he brought it to the studio and did some track work giving it more of a pop sound leaving an operatic feel.
The final track on the album is "Impossible Year." This is the slow ode to the impossible year that Urie experienced, with members leaving the band, leaving him as the sole remaining original member. Some fans believe he's referring to a literal impossible year though. A year will never be as bad as you think, it could always be worse. Whatever the true meaning of the song, it's a great song. It starts very high, key wise, but ends lower and slower.
The album, though completely different from the four previous albums, is simply perfect. Brendon Urie did a splendid job of taking over the band and making it his own and more personal for each song. Becton students agree that this was an amazing album, but "A Fever You Can't Sweat Out," the band's first album, still remains their favorite and songs like "Build God, Then We'll Talk" and "I Write Sins Not Tragedies" are among their favorites.
Overall, Death of a Bachelor is sure to attract new fans to the band and give old fans another reason to love Panic! at the Disco.
About the Writer
Savannah Jones, Editor
Savannah is a senior and Editor for the CEV. She has enjoyed writing for nearly 3 years and brings that joy into every piece she writes. She plans to major...