No need to go hungry this Valentine's Day
Food establishments offer deals for those on a budget
Valentine's Day shouldn't be about how much money people spend on each other but the time they put aside to be with a loved one. As teenagers, we don't always have a huge amount of money lying around; however, a budget-friendly Valentine's Day can be just as great and fun-filled.
First off, Valentine's Day can be a day to celebrate with family and friends as well. It is simply meant to show close ones that you love and appreciate them. So if looking to save, White Castle could be a cheap and relaxing night. One wouldn't have to worry about dressing up if attending their event, so he or she can instantly be prepared for the White Castle Valentine's Day special, which includes table service and a candlelight dinner. Dinner is served from 4 pm to 10 pm and the food establishment encourages customers to bring a camera to capture the moment. Their catchy slogan for the event is "Love is back in the castle."
Another great and close-by fast food place is Qdoba. For those in the mood for Mexican, they are offering a buy one, get one free deal. You only have to buy one smothered burrito and then kiss another person to get the second one for free. With a deal like that, you would be paying less than ten dollars for yourself and a significant other.
If looking for something with a little more of a romantic appeal while still including a reasonable price, you can look for a place that has more of a restaurant feel.  For instance, Applebee's has a great everyday deal of two entrees and one appetizer for a mere 20 dollars. They also offer half price appetizers after 10 pm every day. During this offer you won't have to pay more than six dollars per appetizer, making this a budget friendly, but satisfying night out for the holiday.
TGI Fridays is another restaurant that is inexpensive as is; however, they have a great deal which is almost unbeatable. They offer 12 unlimited appetizers. This means their customers get to pick which appetizer they want, and they can eat and eat until left feeling satisfied.
Olive Garden is debuting both a lunch and a dinner special, which is another great bargain. Their Four Course Festa Italiana deal starts at just $12.99. Getting a four course meal for such a low price is almost impossible. They are also having a lunch special, which includes eight lunch food items all for eight dollars apiece.
Moving on, if you have a little bit more money to spend, you can make Valentine's Day reservations at a place like Max Brenner Chocolate Bar.  Max Brenner Chocolate Bar is known for its expensive chocolate desserts and other food items. However, they do have a great everyday deal going on for two people. This special is called Fondue for Two and it costs roughly around 23 dollars. It includes two chocolate dipping pots and an assortment of fruits, marshmallows and other great treats. The chocolate bar would be a great place to go if you and your date both have a sweet tooth, and it would only cost you about 11.50 per person, if the bill is split in half.
The last and most expensive (but not-so-expensive) restaurant is Chevy's. They are running a 3-day deal for the Valentine's Day season. From February 13-15, they are hosting a dinner for two for $39.99. This dinner includes one starter, two entrees, and one dessert. With a price like that for a three course meal, nothing can beat it.
So whatever you decide to do on Saturday the 14th, don't forget that this is a day to show someone the amount that you care, not the amount of money that you have.
About the Writer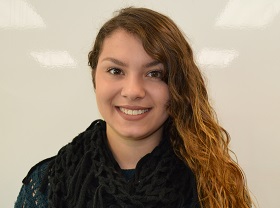 Klaudia Ryznar, Staff Writer
Loud, outgoing, and bubbly are some characteristics that Klaudia possesses. She enjoys managing the boys' soccer team and hanging out with friends. She...