Becton-Wallington Wrestling Team strives for seventh league title
As the 2014-15 season draws near, the Becton-Wallington Wrestling Team battles its way through pre-season and continues to prove itself as a powerhouse in the sport.
In anticipation of their first match at the Haddon Heights Tournament on December 20, Becton-Wallington wrestlers build their discipline and strong mindsets with strenuous practices. Senior Roy Forys shared that the team is working to "improve their skill in the top and bottom aspects of the match, being able to escape quickly on bottom, as well as being able to dominate and control the opponent on top."
Facing a loss of eight seniors last year, the team is intent on rebuilding and, ultimately, fielding the best possible team. "It's a young year. I'm really looking for the juniors and seniors to take responsibility as leaders this year to have a successful season," stated Head Coach Mr. Settembrino. "We like to think the wrestlers we train can all step up to the challenge."
After winning their sixth straight league title and earning second place in districts as a team last year, the team has extremely high expectations for the season. All of the wrestlers hope to make it to the State Sectionals and earn the opportunity to represent Becton and showcase their talent on a larger stage. "As a team, we are constantly looking forward to the next challenge," said Roy. "Even more so, the wrestlers look forward to eating after weigh-ins," he added jokingly.
In regards to the team's demanding practices and weight-cutting, Roy stated, "Wrestling breeds a different type of individual. The grind of it can be extremely taxing on any person, but pushing through these tasks yields great rewards." Roy and his teammates sum up their motivation and willpower in American Olympic wrestler Dan Gable's famous words, "Once you've wrestled, everything else in life is easy."
About the Writer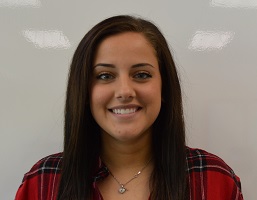 Devyn Di Meola, Editor
Devyn is an aspiring journalist and Co-Editor in Chief of the Cat's Eye View. Avidly drinking coffee and often quoting The Office, she enjoys over sized...