Mr. Settembrino receives NJIC Meadowlands Girls' Volleyball Coach of the Year award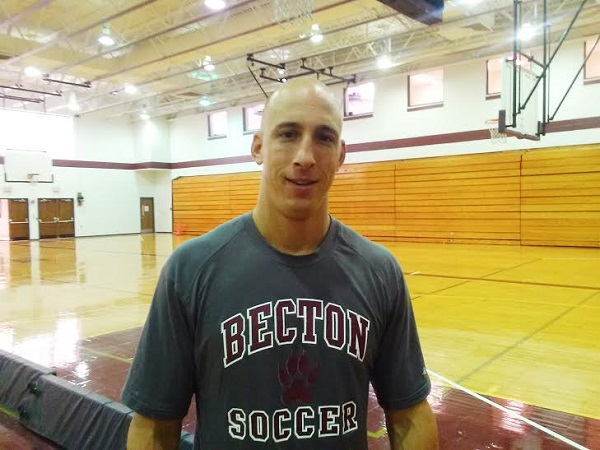 Hang on for a minute...we're trying to find some more stories you might like.
After an undefeated season for Becton's Volleyball Team, which included an 18-0 League Championship, Physical Education Teacher Mr. Settembrino recently won the award as the 2014-15 NJIC Meadowlands Girls' Volleyball Coach of the Year. This accolade will be his second one after receiving a previous honor in 2010. Mr. Settembrino noted that he was more excited about the accomplishments the volleyball team made during the season than being a recipient of an award.
When asked what his favorite sport to coach was, he said, "In terms of fun, it's volleyball, but wrestling is definitely more intense. I honestly couldn't choose between the two since they're actually very different."
The physical education instructor started off coaching volleyball by being Ms. Giancaspro's assistant coach seven years ago. "Mr. Bononno actually really needed someone to coach the girls, and even though I was really hesitant at the time, I am so glad I made the decision to go for it," he said.
His favorite memory as a coach was last year's game against Wallington, which was Becton's first win against them.  He noted that it was definitely a roller coaster of a game, and he still has no idea how they won.
The gym teacher is always looking for ways to improve his team and enhance their skills. "I start by improving myself as a coach. I feel like this starts with me and improving my knowledge in order to teach the girls how to succeed in this," he said.
Mr. Settembrino said he can be described as a "player's coach." He said that he would define himself as an honest, intense, energetic, and enthusiastic coach.
He also stated that one of the people that influenced him the most in his coaching style was his recreational wrestling coach who said, "There is no substitute for hard work." He also said his parents had a big part in his success by teaching him how to be accountable for his actions throughout his life.