Yale Model Congress Trip to New Haven, Connecticut
On Dec. 4 2022 to Dec. 4 2022, Becton's Nearly Famous Debate team attended their annual Yale Model Congress trip in New Haven, Connecticut. The Becton Debate team, authorized by Bill Carr, partakes at YMC, as well as Harvard Model Congress, every year to strengthen their debating skills for future debate tournaments. Yale Model Congress teaches participants life-long skills such as public speaking, communicating with fellow peers, argumentative skills, and teamwork.
During the Yale Model Congress, which consists of numerous schools around the country, delegates are tasked with carrying out a mock congress with selected committees. Each specialized committee is responsible for presenting a written bill, made by delegates, that the committee is able to debate about throughout their committee. Delegates each have the chance to defend their bill, as well as express their opinions about other delegates' upcoming bills. As a team, committee members work together to thoroughly evaluate every presented bill in order to come to a majority decision. Yale Model Congress encourages delegates to follow life-long teamwork values in order to succeed at their overall goals.
Yale Model Congress offers delegates an opportunity to learn vital skills that will benefit them in the future. YMC provides insight into ongoing real-life issues that will stick with you throughout your life. In order to succeed during YMC, delegates need to be able to think critically and act fast. Delegates need to have the ability to be able to evaluate and extemporize arguments in a swift amount of time. Senior debater, Lucas Chen, who has attended two YMC conferences explains, "You must be prepared to provide an intellectual analysis on completely new topics in an extremely short time frame, in front of dozens of other delegates who are just as smart, if not smarter than you. The public speaking and improvisation skills I learned are vital for my future endeavors." Chen elucidates that YMC is valued on the ability to be equipped with in-depth public speaking skills while also utilizing argument skills to prove a point and convince other delegates to see eye to eye on your beliefs.
Due to the fact that YMC has a large number of participating schools, only the most experienced and skillfully trained students are involved in the conference. When deciding to be involved in YMC, delegates need to be prepared, on task, and able to defend themselves against other quick-witted opponents. Becton sophomore, Robert Polanco, demonstrates what he learned from the conference, "My committee had an amazing set of interesting, intellectual people who could defend or argue against a bill easily. They certainly challenged me to be better and I feel as if I have grown since the event." Polanco expands on the idea that delegates have the ability to gain new information from other delegates and no matter how experienced they are, can learn new ways to better themselves for future debates and conferences.
In addition to conferences and the continuous hard work delegates undergo while at YMC, another advantage students obtain while attending this trip is the free time they are given between committees. Delegates are allowed to explore the city of New Haven with other delegates from their school, or others. With the amount of free time given, students can learn more about the city and can even discover new restaurants and stores located in this prestigious city. As a student who did have the privilege of attending this conference, I was free to survey the city with my fellow delegates. While obtaining new knowledge throughout the day during committee meetings, I was also able to have a good time with my fellow students.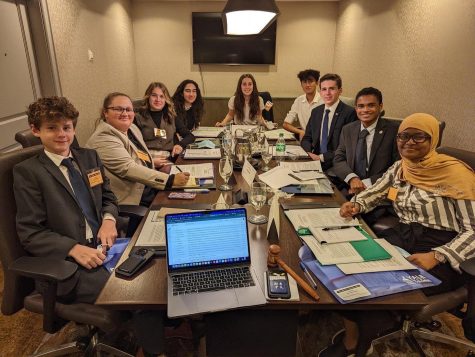 Carr, Debate Team Advisor, shares how proud he is of this year's debate team. He says his fondest moments at Yale were, "seeing the students light up when they told me their bill passed." He also is pleased to commend Adriana McClain as winner of the Best Delegate in Blue House of Representatives with Honorable Mention on the Government Reform and Oversight Committee.
In conclusion, YMC proposes a system for delegates to grow intellectually throughout the weekend. Members of the Becton Debate team encourage anyone who has an interest in public speaking, debating, learning, and adventure to look into joining the debate club.
Coming Up for the Debate Team: Home Varsity Tournament January 12, 2023 and Harvard Model Congress February 23 – 26, 2023
About the Contributor
Kimi Tampadong, Staff Writer
The Cat's Eye View welcomes the newest member Kimi Tampadong! She is a sophomore at Becton Regional High School. As a writer, she hopes to gain a new...