Class of 2025 & 2026 Fundraisers
The freshman and sophomore classes are holding fundraisers to help raise money for future events and activities in the school.  The Turkey Trot, Teacher for a Day, and Gertrude Hawk Chocolate Bars Sales are the three main fundraisers that will be held throughout this holiday season. 
Turkey Trot
On Nov. 23, 2022, the 2nd annual Turkey Trot Fundraiser took place at Becton Regional. The event was started originally by last year's sophomore class representatives. Since this fundraiser was so successful last year, it was decided to make it a sophomore class tradition to pass on throughout the years. Students can pay 1 dollar to purchase a feather that will go to any teacher of their choice that has chosen to participate. The teacher with the most feathers by the end of the fundraiser has to wear a turkey costume and trot around the school for the entire day. 
The contestants this year were:
Mrs.Altomonte  

Ms.Calasso

Mr.D'Alia

Mr.Daniello

Mr.DiBona

Dr.Farina

Mr.Geraghty

Mr.Hoagland

Mr.Koch

Mrs.Lennon

Mr.Lind

Mr.Malyack

Mr.Mendelsohn

Mr.McGuire

Ms.O'Driscoll

Mrs.Oram

Ms.Polmann

Mr.Ryan
Among the 18 contestants, the lucky winner of the 2022 Turkey Trot, was Dr. Farina with a total of 64 feathers. Following suit, Mr.Geraghty was another fan favorite, falling short of 1st place by about 20 feathers. One of the stops on Dr. Farina's day as the turkey, was to period one gym, where he joined students in the weight room to exercise before the thanksgiving festivities began. To see clips from that class, click the link to Ms. Calasso's Twitter. 
The Turkey Trot is a fun and exciting event that helps to raise money for the student body at Becton. Sophomore and freshman class advisor, Calasso believes "this fundraiser is very memorable for our school community- how could you forget your teacher dressed as a Turkey?! This is an experience that all Becton students can share and something to look forward to before Thanksgiving." This year's fundraiser was another success, proving that the event is here to stay!  
Teacher for a Day 
In addition to the Turkey Trot, a new fundraiser instituted at Becton this year gives students the opportunity to dress like the teacher of their choice for the day and teach their classes. Students can enter into a raffle for any participating teacher for $1 only! Those who are selected, will be that teacher on December 2nd.  
Participating teachers include: 
Mrs.Altomonte

Ms.Calasso
Mr.Carr
Mr.Hoagland
Mrs.Lennon
Ms.Lennox
Mr.Lind
Mrs.Mackanin
Mrs.Maka
Mr.Malyack
There are many other teachers who are also participating in the event. Raffle tickets will be sold during lunch in the Main Cafe and after-school in front of the PAC. 
Gertrude Hawk Chocolate Bar Sale
Currently, the 9th and 10th grade classes are continuing their chocolate bar fundraiser. Bars are $1.50 each and are sold by members of the student body. There is a plethora of flavors such as raspberry, milk chocolate, dark chocolate, peanut butter, pretzel, lava cake and many more! Be sure to look out for a student selling a sweet treat to get you through the school day! 
Please continue to support the freshman and sophomore classes as they raise money for events and activities throughout the school year! 
About the Contributor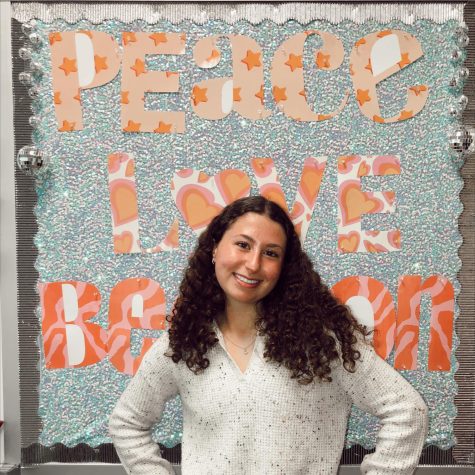 Olivia Busa, Co-Editor in Chief
Olivia Busa has joined The Cat's Eye View staff for her sophomore year at Becton Regional! Excited to write about events happening in the school community,...