2022 National Honors Society Induction Ceremony
 The National Honor Society is an organization dedicated to both academic performance and community involvement and Thursday, Nov. 17, Becton honored 33 new inductees at the ceremony held at Becton Regional High School for students, faculty, and family. Ultimately, the induction ceremony will bring upon 33 new members this year, including the 18 Seniors (juniors before) from last year. According to Kacie Lu, one of the inductees of the ceremony, "The NHS induction was an incredible ceremony. It was really special to be a part of something that seemed so traditional– with the candles and signing our names in the official National Honors Society book of members. The ceremony went really well." Additionally, the reception afterwards was deservingly celebratory. Everyone was congratulating one another gathered by family, friends, faculty and other students. All enjoyed some super delicious "hors d'oeuvres" as well, catered by Michael Salumeria.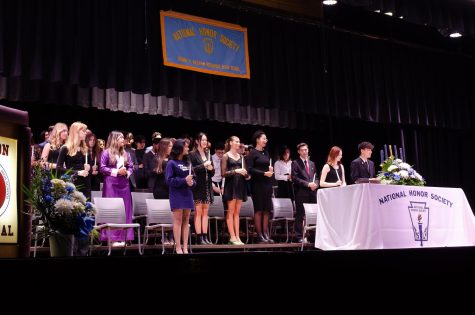 Students are admitted to NHS based on their GPA of 3.6 or better, as well as the leadership qualities they demonstrate in the classroom– which is standard for most institutions. In the case of Becton, advisor Amanda Colangelo states that in order to be admitted, "One must obtain a 93.0 GPA or higher. One must also show your involvement in community service prior to entry and participate in an average of 3 or more clubs, sports, activities a year. Furthermore, one must be able to speak to his or her leadership qualities in and out of school." Traditionally, the National Honor Society is in charge of increasing school pride and community service in our district. NHS members have helped in soup kitchens, homeless shelters, and youth group homes in recent years. Similarly, NHS members have improved the quality of the school community by organizing events to boost school spirit. In order to do this, they organize a plethora of events that the community can partake in as well, which brings up the spirits of others. According to Colangelo, some of the activities that the NHS partake in are as follows:
Tomorrow's Children Fund (Cartoon Band-Aid drive for children at Hackensack Hospital)

Senior Citizen Prom (local event with seniors in our community)

Pennies for Patients (raise money for Leukemia/ Lymphoma)

Reach Out & Read (our annual book drive that donates used books to the less fortunate and stresses the importance of reading)

Senior Buddy (this event takes place in the spring and discusses self-esteem, fear, decision making, and team building with middle school students)

Ambassador for 8th grade Open House (volunteer to represent our student body and speak to parents about the high school experience & getting involved)

Breast Cancer Awareness Month (sell bracelets in the month of October)

Spelling Bee (against Rutherford High School in November)

Induction Ceremony 

Poster Creation (for all service events and anti-bullying week)

Pizza Day/ Status Review (if members raise enough money, students will have a pizza party sponsored by Leukemia/ Lymphoma Society and review their status as a member in order to receive a stole for graduation or maintain membership)

School Store (members must sign up for time at school store with PIE)

Box Top Drive (raise money for our school and promote importance of education by collecting Box Tops)

Clean the Town Day (work with Environmental club in April to clean up the community by cleaning local parks- Earth Day)

8

th

Grade Orientation Night (Senior members are asked to attend our booth and assist for service hours)

8

th

Grade BBQ (August- Senior's members volunteer)
Furthermore, the National Honor Society also provides tutoring services to students who need extra help in different classes. The ultimate purpose of this program, according to Colangelo, is to "improve our kids' academic performance via the utilization of peer tutoring." The NHS not only allows its members to help their classmates, but it also allows them to grow intellectually and emotionally. This once-in-a-lifetime chance helps our pupils to mature as young adults. 
Overall, the NHS being as rigorous of a program as it is, if you get in you certainly should pursue it because it can greatly impact your future.
About the Contributor
Mark Ricco, Staff Writer
Mark Ricco is a junior at Becton Regional who is passionate about his music career. Ricco has always been interested in music and the arts, but his first...