Becton's Best Administrative Assistant, Michele Tabaka, Commemorated with Honor
Becton's persistent and proficient Administrative Assistant, Mrs. Michele Tabaka, has been awarded the BCSCA High School Administrative Assistant of the Year! For as long as she's been at Becton, her goal has been to take on the role of impacting the lives of students and her colleagues.
Alongside, as part of her daily duties, Tabaka works in the Guidance department for Mr. Caprio, Ms. Calvanico, Mrs. Desantis, and Ms. Cozza. She provides them with materials they request, sets up appointments between students and counselors, and places purchase orders for the entirety of the school. As well as this, Tabaka plays a huge part in the seniors' college application process. She is in charge of sending transcripts, letters of recommendation from teachers and counselors, and all additional pertinent information to all colleges that students apply to. Lastly, Tabaka takes pride in organizing the Senior Awards Ceremony by soliciting donations, preparing the program, and getting scholarship applications out to seniors. 
Tabaka is everyone's favorite stop on Becton's first floor; she greets everyone with a sweet hello and is a one-stop shop for resources school-wide. For the past "…12 fabulous years," Tabaka reassures that her duties may vary, "…but there is never a dull moment." Upon nomination by what she calls her wonderful department, she felt instantly validated in her crucial position at Becton. It is no shock that she got recognition for her work, as she is part of the process of changing the trajectory of students' lives.
Tabaka has immense gratitude for the counselors she spends time with day in and day out for all five work days of the week. She adds, "I truly could not ask for a better group of people to spend 40 hours a week with. They make it easy to do my job." Her position of improving the amount of time that counselors have to meet with students improves counselors' ability to help students to the best of their abilities. With the growing surplus of students within the Becton community, her role is crucial in making sure that counselors are available for anything students may need. 
Tabaka recalls, "I feel I was chosen because I do my job to the best of my abilities; I also take a lot of pride in what I do," and rightfully so! The Becton Community adores Tabaka and all of the work she does for the community, not only in the office. In Tabaka's words, this award is important to her because it ensures what she has been striving for: being a competent, hard worker– who happens to be very good at her job. Nevertheless, there is no question that Tabaka has earned her prestigious title through her hard work and unbeatable diligence. 
Finally, Tabaka would like to add that, "…working at Becton has been a positive experience for me. The staff and faculty are among the best and I really could not ask for a better work environment." Her impact extends beyond her office in the Guidance department and flourishes in the achievements of individual students in high school and their higher education.
Thank you and congratulations, Tabaka! 
About the Contributor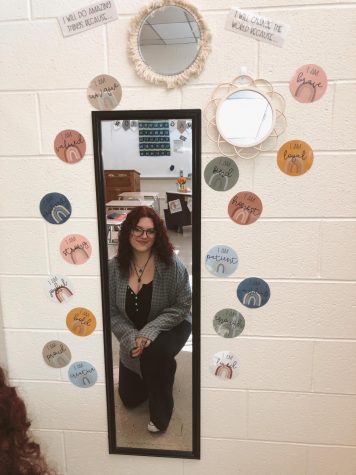 Sylvia Faltyn, Staff Writer
Sylvia Faltyn is joining The Cat's Eye View for her senior year! With the pandemic cutting off half of her Sophomore year, she was able to appreciate...