New Addition to Becton, David Dorsey, is Making History
The Becton Regional High School family has welcomed a new addition to the history department, David Dorsey. Dorsey has a unique love for history and credits this to the dramatic nature in which history has occurred. It is one of his greatest passions in life! To experience history first-hand, he spent time as a Cruise Ship Director for American Cruise Lines, traveling up and down the Mississippi River and experiencing its culture and rich history. 
After completing a Bachelor's degree in history at George Mason University, he immersed himself in the corporate world. "I was trying to think realistically," he stated, "but then I distanced from the corporate world and decided to follow my initial dreams of becoming a teacher." In pursuit of his dreams, Dorsey currently attends Rutgers University as a graduate student and is in the process of completing a Master's degree in Social Studies Education.
Because of Dorsey's love and passion for teaching history, his goal in becoming a history teacher is to give students a different perspective about the subject of history and to have them leave the classroom feeling as if they had been enriched with information. He does this by making his lessons fun, but educational at the same time. On the same note, his favorite historical figure is Theodore Roosevelt, whom he views as an inspiration!
When Dorsey has free time, you can find him either enjoying reading, running, doing yard work, or spending time with friends. In combination with his enjoyment of exercise, he is the new Becton Girl's Track Coach for the 2022 spring season. He looks forward to the upcoming years and transforming the program for the better!
Dorsey's favorite component of the Becton community is the culture and welcoming environment provided by all students, faculty, and staff that he has had the pleasure of meeting. Mr. Dorsey works closely as a mentee under Michael Ryan, a seasoned, valuable member of the Becton history department. Mr. Ryan describes him as having "…unparalleled drive and positivity. He is bringing an entirely new perspective to our department." Clearly, Dorsey is appreciated by his fellow staff and students and everyone is thrilled to welcome him into the community. Let´s all give a very warm welcome and well wishes for the future to David Dorsey!
About the Contributor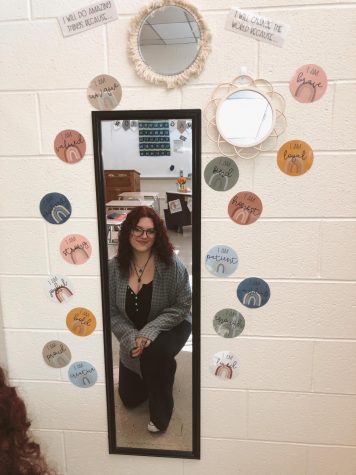 Sylvia Faltyn, Staff Writer
Sylvia Faltyn is joining The Cat's Eye View for her senior year! With the pandemic cutting off half of her Sophomore year, she was able to appreciate...