Ms. Engelhardt's Farewell from Becton!
Earlier this year, Ms. Engelhardt announced her official decision to retire. Englehardt was a well-loved individual in the Becton community for over 50 years. Many of her fellow co-workers describe her as a hard worker, trustworthy, and passionate about her career. Engelhart's wildcat journey began when she attended East Rutherford High School, which is now known as Alfred S. Faust Intermediate. In October of 1966, half of the building was burned down, which enabled everyone who went to the school to be transferred to Lodi. Engelhardt was a sophomore at the time of this occurrence. She remembers how East Rutherford and Carlstadt began planning to build a new secure high school, which was the making of Henry P. Becton Regional High School.
Upon her graduation, she attended Katherine Gibbs in Montclair. In June of 1971, she was hired as the first secretary in the Becton Board of Education Office. Engelhardt worked at the Board Office for 3 years but resigned to take a position in a different field. She would later return back to her previous position in June of 2002. Although she enjoyed getting to know the other fields and positions, she always lingered about the possibility of her old position, and luckily, the opportunity presented itself. Once she was able to get her position back, she felt whole again. 
At first, a typical week for Engelhardt would be opening mail, typing correspondence, answering the phone, and preparing for the Board of Education agenda. As time progressed, she gained the trust of advisors to take on more duties. For instance, Engelhardt was able to pitch in the Special Education department and oversaw the Nutrition Program. Engelhardt assisted members on reports in the State Homeroom Portal. Technology made an increase in responsibility with the Maywood district entering. She helped in the addition of Maywood and took part in making it all come together. In her 20 years in the Board of Education Office, she overlooked a plethora of new additions and changes. Engelhardt thought back to her journey, "I went through and assisted with the noise abatement renovation with the Port Authority, Federal Aviation Administration, and State Department of Education. It was a real learning experience and a lot of record-keeping and paperwork. The end result was an air-conditioned building, a new media center, and a science wing. With the introduction and advancement of technology, the internet, and email, work really became a challenge for me." Though she did her best as always to learn about the new technology at Becton, she admits her struggle with it helped determine her retirement status.
Engelhardt explained the process of training with Ms. Jusino, "She was everything the position required, and she was an absolute joy to train and work with. Becton is lucky to have her!" Jusino then shares her thoughts on being trained by Engelhardt, "I had the pleasure of being in [Ms.] Engelhardt's company for 3 months of training. She shared so many stories with me and so many experiences that she has been through. It was very inspiring to hear how she accomplished so much in this job and how far she has come." Jusino plans to work as hard as Engelhardt and honor her legacy. Some advice that Engelhardt leaves with the new members of the Becton community is, "…stay positive. It is always difficult when you are in a new environment; although, Becton has a great staff and everyone is always willing and able to assist you. Ask questions and accept help." Clearly, with great experience comes great wisdom!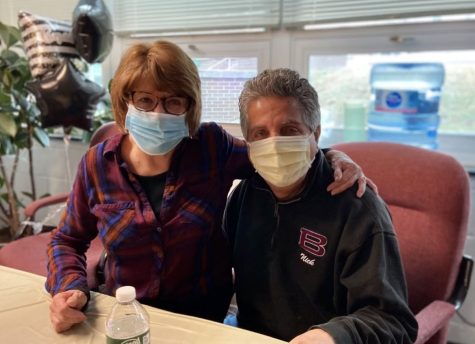 The retirement process comes with its own sets of responsibilities. There is always the challenge of finalizing the paperwork, but the hardest part for Engelhardt was saying goodbye to all the well-loved staff members. Engelhardt describes her favorite moments, "My favorite parts of being at Becton were the students and working with the staff. I was always so proud of the students and of how respectful they are. I have never had a student not open or keep the door open for me when they saw me entering the building behind them. I tell people all the time what a wonderful student body we have. As for the staff, my colleague, Mr. Annitti, and I had even gone to high school together. He was a great boss as much as he is a great friend. We loved to reminisce about our high school days and the history of Carlstadt and East Rutherford. We call it reflections. I told him he has to take me out for breakfast once a month!" Also, in 2009, Englehardt worked alongside another great friend, Mr. Caputo, in the Buildings and Ground Department. Caputo reminisces about their time well-spent together. Caputo exemplifies the kind of person that Engelhardt is, "She [is] an integral part of the construction process here at Becton a few years ago. That was a learning curve for all of us, and I will never forget her perseverance and consistency throughout the years." Engelhardt never failed to look on the bright side of life. One can see that Engelhardt was certainly an essential part of the Becton community.  
In her final days at Becton, Engelhardt was celebrated with staff. An announcement was made by Dr. Sfoza praising Engelhardt's accomplishments and the legacy she left behind. Although not all of the new students are able to grasp the mark that she made, it is evident that she was the heart of Becton. Everyone will miss her contributions and her ability to put a smile on everyone's faces. She always left a little bit of sparkle wherever she went. As for what follows, Engelhardt aspires to travel more often, but at the top of her list is to spend time with her grandchildren. According to Engelhardt, "My grandkids are the light of my life. The joy they bring me is so strong, and I can not wait to spend more time with them. I truly enjoyed my time at Becton, especially the last four years. Like I said when I left, "Once a Wildcat, always a Wildcat." Congratulations Engelhardt on a well-deserved retirement! 
About the Contributor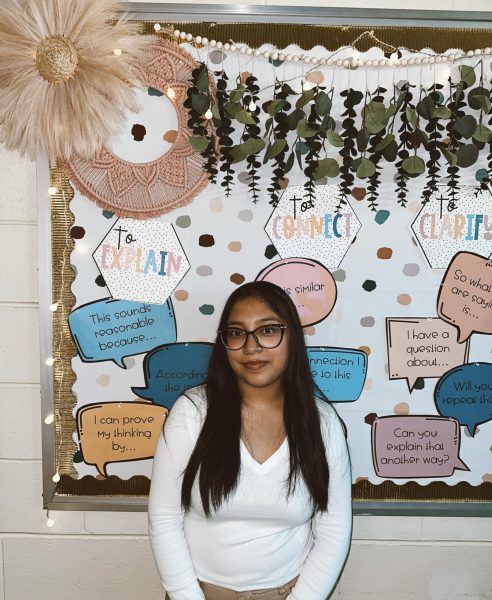 Victoria Hernandez Garcia, Co-Editor in Chief
Returning for her third and final year of the Cat's Eye View newspaper is senior Victoria Hernandez Garcia. Garcia hopes to fully master all the skills...