Let's See What Becton Has in Store…
As many staff and students may have heard recently, the Becton school store has been reopened for the remainder of the school year! Pioneered by Ms. O'Driscoll, Mrs. Colangelo, and Michele Romano (President of PIE), the store is up and running every day of the school week. Located between the doors of the Performing Arts Center, the area is already buzzing with students as soon as the last bell rings. This reopening has commenced after a year of anticipation, as the school store has not been open since February/March of 2020, due to COVID precautions. As a result, this time has given the opportunity for the store to improve immensely.
Between 2:30pm to 3:30pm every Monday through Friday, a plethora of items are available for students to purchase. Throughout the day, students may grow hungry or thirsty which attracts students to the store. At prices as low as a dollar, items are affordable for all students. Not only does the store feature snacks and drinks, but if you are low on writing utensils, you can even buy a pencil. More excitingly, school spirit items and apparel are now being added to the menu of items available to buy. According to O'Driscoll, while the gradual integration of Becton apparel is being added to the store, they just received, "NEW BECTON WINTER HATS that can be purchased NOW for ONLY $18!" There are also diverse items like pajama pants, ¼ zip-ups, full zip-ups, polos, and beanie hats. Without the exceeded expectations of staff and students and the hard work of everyone in charge, these opportunities would not be available for everyone to share.
However, you will not see O'Driscoll or Colangelo running the store after school every day. Students that are a part of the National Honor Society, the Student Council, and the Key Club have been asked to volunteer in running the store during hours of operation. Volunteers are always welcomed and appreciated in this amenity provided to students and staff. In terms of the technicalities regarding where the collection of the money goes towards, O'Driscoll says that "[it] goes toward our school store to replenish supplies and apparel, as well as toward a Becton Scholarship, which is given to a senior." So far, the school store is thriving with excitement for new school swag to come back into stock. In continuation, O'Driscoll adds, "We are continuously working on making our new and improved Becton School Store accommodating to the interests of our students and staff so we welcome any ideas for items, supplies, or apparel that we should add!" With the creativity amongst Becton students, the possibilities are endless in the continuous transformation and development of the store. Who knows, maybe there will be a line wrapping around the halls for a chance to secure these items!
About the Contributor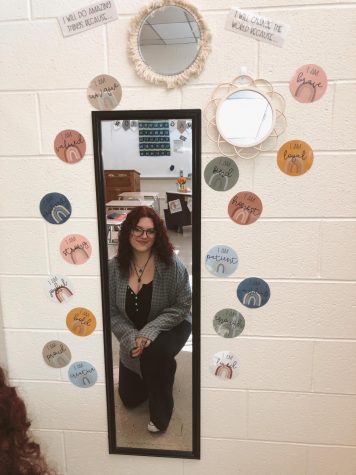 Sylvia Faltyn, Staff Writer
Sylvia Faltyn is joining The Cat's Eye View for her senior year! With the pandemic cutting off half of her Sophomore year, she was able to appreciate...