December Student of the Month: Giana DiLemme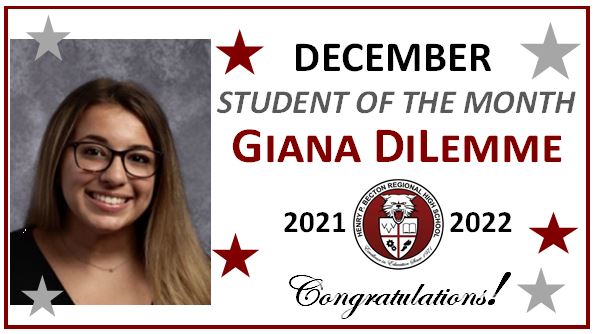 Being named "Student of the Month" is a way to honor one's character and academic successes throughout their journey through Becton. Giana Dilemme, who was chosen for such a meaningful title, manages to excel in all aspects of her high school career including, but not limited to: vigorous courses, sports, and extracurriculars. Her contagious desire to improve her community only adds to her well-rounded character. Dilemme's versatility has allowed her to flourish and create new experiences all around. She is a high-honors student who is an active participant in various community service clubs such as Girls Helping Girls, Multicultural, Environmental, and Key Club. Continuing to shine as one of Becton's model students, DiLemme is also Co-Senior Editor in Chief of the Cat's Eye View Newspaper and the Yearbook Committee. DiLemme mentions, "Doing things I am extremely passionate about keeps me motivated," one of them being able to work alongside of the other young women in the Bergen Committee Junior Commission on the Status of Women in which she was specifically selected for. 
Apart from the outside aspects of DiLemme's life, mental health has definitely had an effect on her. Her strength to overcome such a struggle is anything but overlooked. She explains, "I am more than what I've gone through, I have gained more confidence over the last few years. I'm lucky that I have many great people in my life that have helped me get there … friends, counselors, teachers," she explains. Clearly, this has not put a pause on her hunger to grow and gain knowledge. 
DiLemme's eagerness to graduate this year has a lot of diverting plans following it. A way to combine two of her favorite things: music and writing, she anticipates her admission into the University of Michigan, graduating with her undergrad in Journalism, and hopes to receive a job in Music Journalism. DiLemme's ultimate goal is to become a music journalist for Rolling Stone and expresses that she "…want[s] to hold a high position, like being editor in chief." With her profound thinking and ambition, she is sure to achieve this! DiLemme imparts a few words of wisdom on aiming high to achieve success: "If I had to give any advice, I would say stay motivated. However, it is also about getting involved. The easiest way to live out your high school experience is by taking risks and becoming a part of something greater. Showing that you care is vital, even if you are not the best academically, effort goes a long way. Most importantly, make friends and have fun." She continues to follow her own words of advice and will take them with her throughout her thrilling and triumphant path!
About the Contributor
Pilar Torres, Staff Writer
Pilar Torres is a senior here at Henry P. Becton Regional High School. When she is not planning for the future or savoring her last year of high school,...