Becton Families Share Their Thanksgiving Traditions
Thanksgiving is a time of year when families come together, troubles and responsibilities are put aside, and delicious food and the presence of family are appreciated and celebrated. Whether intentional or not, many traditions are formed over the years that play an vital role in the entire celebration of this holiday. Members of the Becton family share some of their Thanksgiving traditions.
Mrs. Dawn Savincki of the Art Department at Becton shares her Thanksgiving memories that go back about thirty years when her entire family from great aunts to uncles to grandparents would gather at her maternal grandmother's home. Her grandmother would prepare a feast and even make more than one hundred ravioli! Her great uncle would also be seated at the head of the table and make the family laugh with all his jokes. This joyous tradition has been going on ever since Savincki can remember, and is one that she will always cherish and share with her children. As time has gone on, however, her family's Thanksgiving dinner has become more intimate and smaller. Although this gathering doesn't take place with the same people anymore, Savincki states, "I hope to…slowly build up this tradition or something close to it as my kids get older." Currently, Savincki and her sister alternate hosting their family's Thanksgiving dinner and celebrating the holiday with their in-laws. This holiday represents the gathering of family and living in the moment for Savincki, at least for one day. The moments she cherishes the most are when her children are able to meet with their cousins and grow smiles from ear to ear. She also enjoys trying a new recipe for a Thanksgiving staple every year, and even hopes to bring back the Italian food and ravioli her grandmother once brought to the table!
Mrs. Justine Settembrino of the English Department celebrates the Thanksgiving holiday with her entire family, which includes her parents, siblings, and grandmother as well as her family members that live in Virginia, her husband, Mr. Michael. Settembrino, and their children. The family gathers down at the shore to rent a beach house in the beautiful town of Lavallette. They have been continuing this tradition since the year of 2013! Sett states that she values this time, "because it allows us to be together for several days, enjoying each other's company." The family utilizes this opportunity to be together. They have bonfires on the beach and play many family games, such as Thanksgiving Trivia. They also gather to watch the Macy's Thanksgiving Day Parade and even go surfing and fishing if the weather is warm enough!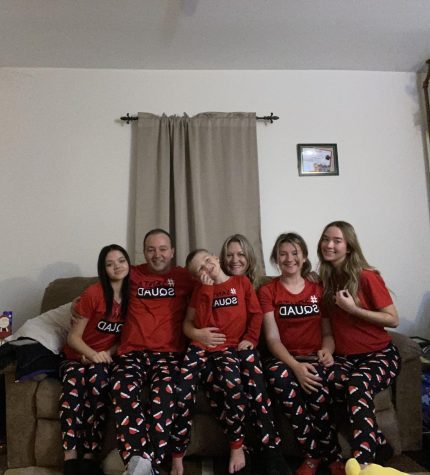 Madison Knueppel, a senior at Becton, spends this time of year with her mother, step-father, two sisters, and younger brother. The family gathers at Knueppel's home in East Rutherford, where they celebrate the holiday with a Thanksgiving dinner. Afterward, the family receives a set of Christmas-themed pajamas! They wear these during the night of Thanksgiving, where they then set up their Christmas tree and decorate it. Knueppel has been honoring this tradition with her sisters since she was 8 years old, and it has come to include her parents and younger brother as well. She feels that "[This tradition] is important because it's what ties us all together and welcomes the new holiday." Knueppel loves the time she spends with her family and truly appreciates the moments and events that they can gather at and be together. As she and her sisters are soon to head off to college, Knueppel is committed to continuing to honor this tradition in the years to come and staying connected to those she holds close to her heart.
Senior Sylvia Faltyn's Thanksgiving celebration always takes place at her family's house. Although Faltyn does not have any relatives that live in the United States, she instead celebrates the holiday with her mother, mother's fiancé, and sister, which makes their dinner table anything but small! It includes a variety of delicious foods. The group expresses their gratitude before eating at the table, which Faltyn explains, "Each member of our family all share five things we are grateful for!" The family likes to spend time with friends during this time of year as well. A tradition that Faltyn and her family have is that her parents place money underneath the children's placemats to discover at the end of dinner! Altogether, the Thanksgiving table is a very crucial and joyous aspect of the Faltyn Thanksgiving dinner.
Overall, there are many differences between the Thanksgiving traditions that people celebrate, but what they all have in common is that they are celebrated with family and friends! It's always important to find the time to pause and appreciate the positive aspects of life. The Thanksgiving holiday provides this opportunity to share and express gratitude for all that we have, especially our Becton family.
About the Contributor
Neziha Ulker, Staff Writer
Neziha Ulker is a sophomore at Henry P. Becton Regional High School. Intriguing enough, the word "Ulker'' translates to "Pleiades constellation"...