On October 15, 2021, Becton held their annual Homecoming football game against Hasbrouck Heights. Seniors George Kasper and Alyssa Kirk were crowned King and Queen by the student body. The rest of the court was made up of four seniors: Danny Chandra, Gina Cruz, Amanda Hasch, and Robert Emerson, who were all thrilled and honored to be nominated.
Alyssa Kirk is truly one of "Becton's Best!" She is a four-year, tri-varsity athlete, playing soccer, basketball, and softball. She is also the captain of the Girls' "Lady Wildcats" Soccer team. Kirk also uses her spectacular energy and school spirit to participate in and lead a few of Becton's entertaining events! She has hosted the Fall Pep-Rally this year and is one of the leaders of the ebullient student section, more notably called, the Becton Jungle. After high school, Kirk has her heart set on going away to college to study nursing. She also wants to pursue her passion for traveling and studying abroad!
Kirk was nervous about the nominations, to say the least! Kirk admits, "Truthfully I was terrified, not only were the stands packed but everyone was looking at the homecoming court." When casting her own vote, Kirk revealed, "Honestly, I did not believe in the slightest I would win. I actually voted for one of the other candidates," displaying her selflessness when it comes to others. 
When asked why she believed that she won, Kirk shares that her "friendship with all grades and outgoing personality" convinced the student body to vote for her. Kirk expressed that, in her opinion, qualities of the Homecoming Queen should be "Friendliness, school spirit, and confidence while being an active member in your high school community!"
Alongside Kirk, George Kasper was crowned Becton's 2021 Homecoming King. George is also very involved in the Becton Community, especially in athletics. Kasper has excelled in his athletics, being a four-year varsity football player and wrestler. During his freshman year of high school, he received the Freshman Player of the Year Award for football. He is also the captain of the Becton Wildcats Football Team, specifically chosen by Coaches Jack Maher and Greg Barbo. After high school, Kasper has dreams of going either into the military or a trade school, which excites him!
Like Kirk, Kasper also had serious doubts about his chances of winning. Kasper shares that he was "not nervous, but shocked" about the nominations. However, he explains that he was "more focused on the game than winning homecoming," showing how dedicated he is to his team.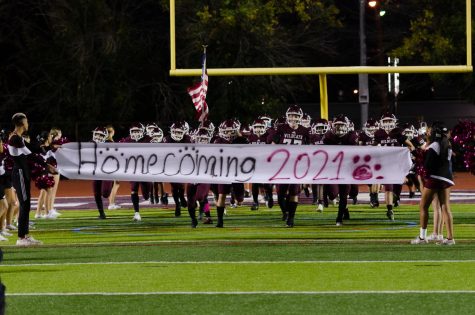 Kasper shares that he believes he won because "I think people look up to me as a leader and a friendly face in the school." To add, Kasper plans on continuing his leadership role at Becton by making his senior year more enjoyable for his classmates by being his outgoing self for everyone. He also plans on participating in multiple fundraisers in the future to help the school community.
Becton's goal when crowning the Homecoming King and Queen is to showcase students who are model leaders in Becton's school community. Mrs. DePeri, who led the event and nominations, describes that good candidates for Homecoming King and Queen should be "well rounded wildcats" and that the criteria are based on "good character, leadership ability, and school spirit." DePeri affirmed that she was very satisfied with who won. "They were both voted by their peers and clearly won the respect and support of all grade levels," says DePeri. Kirk and Kasper are and will continue to be great leaders in the school community and truly exemplify what it means to be "Becton's Best!"