Supt. Dr. Sforza honored in NJBIZ's 2021 Forty Under 40 awards
Recognized for his trailblazing efforts and impact on the regional community, Dr. Sforza is the only K-12 professional celebrated in NJBIZ's 2021 roster
The Carlstadt-East Rutherford (Becton) Regional High School District is pleased to announce Chief School Administrator and Superintendent Dr. Dario Sforza has been honored in NJBIZ's 2021 Forty Under 40 Award program. Dr. Sforza, who joined the Carlstadt-East Rutherford (Becton) Regional staff in 2014, was selected for his leadership, vision, effective communication and dedication to the three communities he serves — each critical components of running a successful school district.
Chosen by an independent panel of judges, Dr. Sforza joins an esteemed list of individuals recognized for their achievements and contributions across their respective industries — spanning healthcare, finance, sports, law, education and more. As leaders and pioneers, NJBIZ's 2021 honorees have each made a lasting impact throughout the Garden State community at large.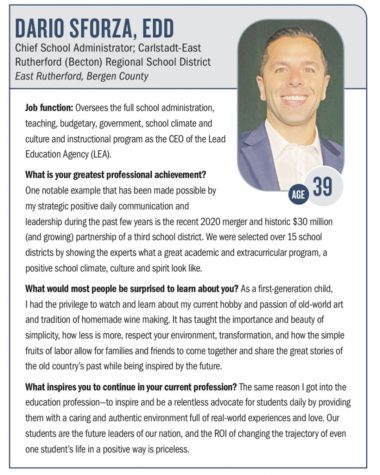 "It's an incredible honor to be chosen for this prestigious award and to represent my local district and the state's education community amongst this year's celebrated roster," said Dr. Sforza. "The past year and a half has challenged all of us in unprecedented ways, but I made it my mission to lead by example and ensure our district persevered and our students' educational experience was never compromised. I wasn't alone, and I'm eternally thankful to my Board, faculty, staff, and the families we serve for their unwavering trust and support. Together, we transformed Becton Regional into an exemplary institution, recognized both in Bergen County and across the great state of New Jersey."
Dr. Sforza, a true trailblazer, was instrumental in transforming the Becton Regional High School District into a model school district and one of the only districts in the state to keep its doors open five days a week for in-person instruction throughout the pandemic. An active member in the local community, he continues to be a fixture at a broad range of school-driven community events including fundraisers, awards ceremonies, and sporting events, and helped establish wellness programs, kindness awards, veterans celebrations and military signing days to further solidify the bond between the school and its surrounding communities.
"
It's an incredible honor to be chosen for this prestigious award…"
— Dr. Dario Sforza
His contributions to his school district extend beyond the pandemic. With over one third of the district's student population being economically disadvantaged, he continues to work relentlessly to offer all students equitable opportunities. He helped expand on the addition of a multi-level, state-of-the-art Media Center, providing student and community access to the new Katherine Wickle-Ochipa TV Production Studio, the Wellness Center, and additional teaching and learning spaces. Furthermore, out of 16 Bergen County high school districts, he positioned Becton Regional to be selected as the current home for the Maywood school district — a $30+ million partnership that has already proven to positively change the trajectory of the school.
"I've never been one to settle for the status quo, continually pushing the boundaries of what can be achieved across the education landscape, with the sole benefit of increasing opportunities of success and growth for the children and communities we serve," continued Dr. Sforza. "Together, with my team, I had the foresight to recognize the benefits of Maywood joining our Becton Regional family, and worked tirelessly to ensure the decision makers understood the tremendous benefits this type of historic partnership would bring. But my work is not done, and my vision for the future of Becton Regional is unlike any other. I look forward to working closely with our school community and charting an unparalleled path forward to make that vision a reality for the next generation of Becton Regional students and families."
Earlier in 2021, Dr. Sforza was celebrated on the global stage at the MGM Grand in Las Vegas, NV as one of the Top 100 Leaders in Education by the Global Forum on Education & Learning, a recognition of his dedication and forward-looking vision to the field of education. Building on his recent success, Dr. Sforza also recently submitted plans to construct one of the most advanced energy efficient campus tech expansions in the northeast, which will include state-of-the-art STEM, vocational, and special needs facilities and programs. 
To learn more about NJBIZ's Forty Under 40 Award program, visit: https://njbiz.com/congratulations-the-2021-forty-under-40/.