A 'Soaring…Flying' Review of Becton Theatre Art's High School Musical: On Stage!
Becton's Theater Arts Department performed their rendition of High School Musical: On Stage! on February 28th and 29th, showcasing some of the school's newest talents among the underclassmen. The play, which was directed by Mrs. Michele Morell, assistant directed by Mrs. Kara Sozzo, and choreographed by Miss. Ashlee Tancredi featured a cast made up of almost entirely freshmen and sophomores.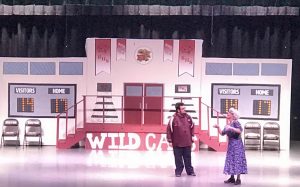 This was one of the first times in several years that a Becton drama production has not had any seniors taking on lead roles, but the young students held their own and impressed the crowd with their musical abilities. Sophomore Morgan Carter stunned the audience with her powerful vocals as Gabriella Montez. Her solo "When There Was Me and You" gave her a chance to belt out some long notes and show off her stamina. Usually, school plays leave people thinking '…they were pretty good for high school students.' Morgan left me thinking '…she's amazing for someone that's not famous yet.'
Another crowd favorite was junior Blaze Grabowski playing overzealous drama teacher, Ms. Darbus. Decked out in formal dresses, bold jewelry, and a grey wig to boot, there was never a dull moment when Blaze took the stage. He provided comedic relief throughout the show, not just because he was dressed as a woman, but because of his commitment to the over-the-top facials, dances, and movements that came with the role.
As a freshman, Alex Ochoa grew a lot as a performer from the first scene to the last. It is amazing that he was able to earn this role during his first year of high school and I hope to see more from him in the future. Sophia Diaz's dazzled as Sharpay Evans in a fiery red frilled costume during the second half of the show. Sophia met the challenge of this role, as she was able to successfully play a likable villain. While Peter Schumann took on the role of her brother, Ryan Evans. I enjoyed the sassy delivery of his witty lines. He really nailed the character, while bringing his own personality to the role.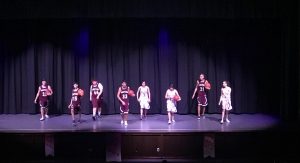 In the plethora of positives regarding this year's play, the one downside that took me out of the element was a number that appeared to be lip-synched. The fact that I've heard both students sing quite well in choir class left me baffled that the audience was denied hearing their talented voices. This may have been a result of the performance-based elements required for the number, including one-handed cartwheels and dramatics dips. However, I would have preferred if the number was altered, allowing them to sing live. 
Audiences also fell in love with Sean Spadavecchia as Jack Scott, who progressed the storyline by recapping scenes with school announcements. He was charismatic, lively, and played off mistakes well. Sean received rounds and rounds of applause and laughs from the crowd, and even some screams and whistles from fans whenever he would return to introduce the next scene.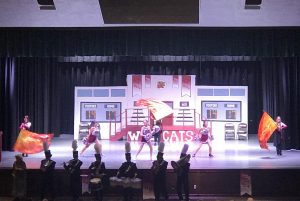 Some personal highlights of mine were Segall Sanchez and Jorel Williams playing Kelsie and Zeke with the same adorable awkwardness that audiences fell in love with, in the original Disney Channel movie. Once these two fully break out of their shells, they'll be leading the theatre department.
Overall, Becton Theatre Arts put on a show that has become one of my most loved, over the course of high school. Everyone gave their all, and while the acting prowess had room for improvement, that comes with experience, over time. If Becton is lucky, these kids will definitely come back next year to "Bop to the Top" once again.