Head of IT is VIP: Celebrating Mr. Gbaguidi with the Governor's Professional of the Year Award
According to the State of New Jersey website, the Governor's Professional of the Year award "recognizes excellence and creates a sense of pride and gives public attention to professionals worthy of the award." Mr. Gbaguidi, the supervisor of technology and innovation rightfully received the award this year for all of his hard work for the school. 
Mr. Gbaguidi felt very overwhelmed when he was honored because he wasn't expecting the award. He feels "appreciative that my peers were cherishing me and all my hard work".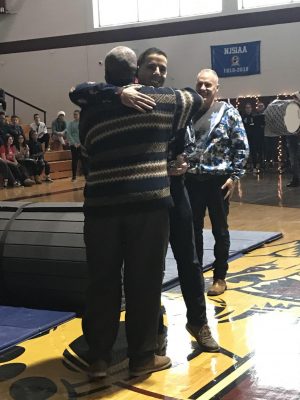 Most people believe that his job is only on computers, but they are very wrong. Mr. Gbaguidi's responsibilities carry over in various forms, throughout the school. As many know, he is in charge of keeping everyone up to date on the problems of the internet, but you may not understand what a task that is. Essentially, Mr. Gbaguidi has to make sure that every single teacher has what they need to teach their lesson and maintain their classrooms. This is a lot of weight on his shoulders, and without him, the school simply could not run. Mr. Gbaguidi explains that he "really enjoys his job and loves the challenge and tasks that come with [it]".
He also does a lot of behind the scenes work involving different technological systems around the school. Mr. Bononno spoke about Mr. Gdaguidi's dedication to Becton, "Over the summer we had to close the building to change [the] pipes; if water doesn't run they can't open the school. [I] call[ed] him to tell him not to come to work, he was so upset and insisted that he should come. That sums up Mr.G". Mr. Gbaguidi is always working and even when he leaves school, he has something to do since there can be network shutdowns, viruses, and many more behind the scenes activities that keep him very busy all hours of the day. Mr. Gbaguidi is not just keeping us learning, he is keeping us safe and connected.
He says that it "feels great to be able to make someone happy by doing my job". Mrs. Sozzo echoed this sentiment when asked about Mr. Gbaguidi's work in the school, "he always has a smile on his face, even when he is beyond busy and has a million things to do, he will always stop in the hall, smile and offer to help. His help has made a difference for me during my first year at Becton".This reaction to Mr. Gbaguidi's dedication is widespread throughout the school. It was obvious when the award was announced and the gym exploded with applause from both teachers and students, during the winter pep rally. Mr. Gbaguidi may be the most important person at Becton and is certainly one of the most admired.