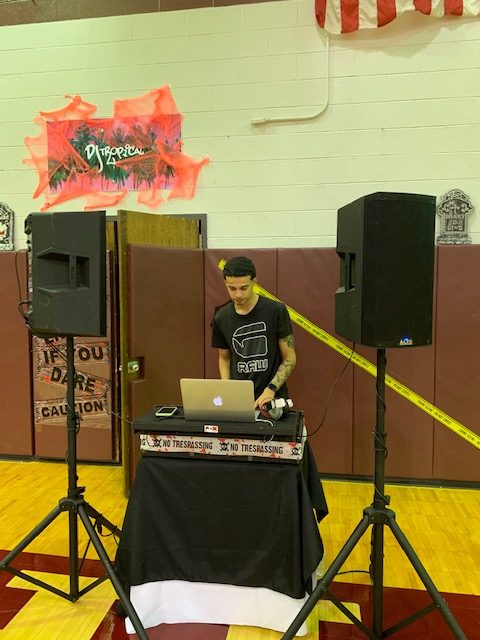 Becton showed some spooky Wildcat pride at its second annual Nightmare on Wildcat Way pep rally on Halloween. The frighteningly fun event consisted of themed competitions between teachers and students, as well as the announcement of the costume contest winners. DJ Tropical, aka Junior Bryan Mendez, provided the music for the events and Seniors Briella Novello and Salome Siradze hosted the event, never letting the crowd go a moment without cheering and engaging with the show.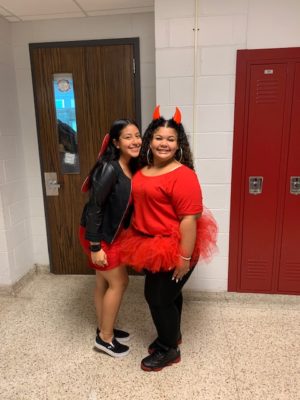 The three games played at the rally were the Mummy Wrap Race, Hungry-Hungry Jason Voorhees (a horror-film take on Hungry Hungry Hippos), and a pumpkin pie eating contest. Two female and two male students were selected to compete for their respective grade level, going head to head not only with each other, but the two teachers signed up for each event. In the Mummy Wrap Race, one team member must wrap the second player up in toilet paper to resemble a mummy, and once swaddled, the "mummy" has to run to the opposite side of the gym and back before time runs out. Physical Education instructor Ms. O'Driscoll, dressed as Olive Oyl from Popeye, won the girls' race for the teachers, while two boys won for the Sophomores in the second round.
Next was Hungry Hungry Jason Voorhees, where one person lays upon a scooter, and their partner holds them by their legs to push them into the center of a candy-covered floor. Whoever collects the most pieces of candy is declared the winner, but the audience was so riled up when everyone began throwing buckets of sweets into the bleachers, that there was no announced winner, meaning that everyone came out on top in spirit. 
The final event was the pumpkin pie eating contest, the true headliner of the rally. Students bolted from the stands to get up close and personal with the contestants at the tables of pie. They were given one minute to gobble down as much dessert as possible, and in the end, history teacher Mr. Kuhns reigned as the champion.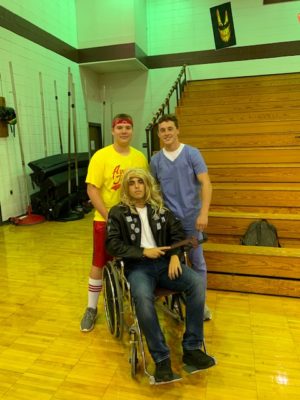 When it came to dressing up, Becton went all out and continued to raise their Halloween bar. Teachers participated in group costumes that were showcased at the rally, such as characters from Grey's Anatomy, the Golden Girls, and The Addams Family. "I'm always impressed with how the faculty goes above and beyond each Halloween. In my opinion, The Addams Family really took it this year," commented Mrs. Vacarro, who did a couple's costume with Ms. Giancaspro as Laverne and Shirley. 
Students who won the yearly costume contest included Kaitlyn Roughgarten as a Smore for the Most Creative, a group of senior boys as the Average Joes for the Funniest, and Hailee DeRosa as a torn-faced zombie for the Scariest. Sarah Burgos, Aurora Marin, Madison Knueppel, Yomna Hammouda, and Kasley Alexander also won as Anime characters for Best Group. Jilian Kaszka and Andri Barrios won Best Duo as Jack and Jill, and Isaiah Royster took home the gold, or the Central Detention Free Pass, as the iconic Michael Jackson. Mrs. Failla reflected on the event saying, "I feel that students and faculty had fun. Student Council, Ms. O' Driscoll, and Ms. Dizon work extremely hard on this event." 
Photographs by Jessica Szewczyk